Meet our nurses
Suzette Bertram
Ward Manager for Mercers (General Surgery)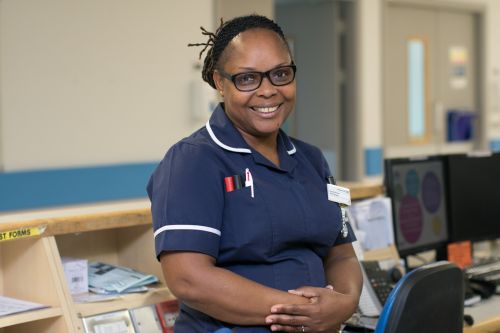 I ensure my staff always work safely and they have the support they need.
What's the best thing about working at Whittington Health?
I work in a very supportive environment. The ward managers help and look out for each other and I've had one line manager for 10 years, Sharon Pilditch. We share an office and I can ask her anything. The Trust feels like a family-oriented place and everybody knows everybody. I've mentored lots of students who have picked up on that and they ask if they can come to my ward for their final placement; they often then go on to join as newly qualified nurses.
What are the challenges of your role?
In my heart I'm a clinical nurse – I like being out there on the ward with the drips, drains and needles! So although some paperwork and admin is essential for my role I still see that as the biggest challenge!  I've learnt the need to manage the office work as well and balance it out on busy days, but still my patients and my students come first.
What special skills do you need?
We get a lot of very unwell patients, either straight from surgery or from ITU or the Emergency Department, so you never know what the caseload will be. We have to support patients to minimise their anxiety too, with everyone asking for answers and solutions; often patients and their families struggle in dealing with the unexpected.
I ensure my staff always work safely and they have the support they need.  I remember in my early days in nursing support systems were different and I am determined my students and new nurses have a positive experience.