Education and Training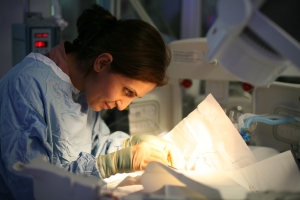 Education and training are viewed as a very important element of the services provided by the hospital, especially as it is one of the largest providers of education to postgraduate healthcare workers in London.

The hospital has a good reputation for the education opportunities that it provides to staff. In national staff surveys, the Trust consistently scores in the top 20% in the country for access to training within the past 12 months. There is a large portfolio of in-house training which is supplemented by courses provided by local universities and colleges.
The Trust has been accredited with the Investors in People award, and is an endorsed provider with the Institute of Leadership and management. All staff are able to join the Whittington Healthcare Library which enables access to a wide range of books as well as electronic journals, and the services of a dedicated clinical librarian.
Undergraduate and Postgraduate Training
The Whittington is a teaching hospital and hosts clinical students from many of the London universities, including, University of London, Middlesex University and Kings College London. There are over 400 undergraduates on site at any one time.
The Postgraduate Centre is particularly renowned for its postgraduate medical courses which attracts students from all over the world. The comprehensive teaching programmes organised include MRCP courses, clinicopathology conferences, colposcopy courses, journal clubs and GP meetings.
The Centre has a responsibility for the training of junior doctors, together with the Continuing Medical Education for consultants and local General Practitioners.