Thinking of You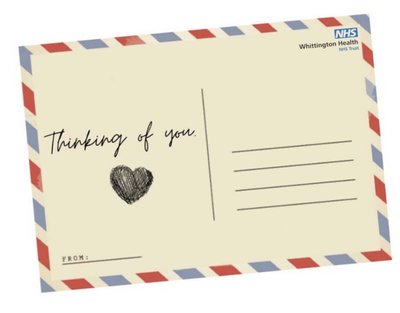 We know how hard it is to be separated from loved ones while they are in hospital.

To try to ease this, we have introduced a 'Thinking of you' service which allows you to send a 'Whittington postcard' to your loved ones by filling in the form below.
You can attach your own photo or we will select a beautiful picture for it, created specially by Whittington volunteers.
Once submitted, your message will be printed onto to a 'Whittington postcard' and delivered to the patient on your behalf. Messages received before noon will aim to be delivered the same afternoon (weekdays).
Please ensure that you include the recipient's full name, date of birth, and (if you know it) the hospital ward to ensure it reaches the right person.