Recruitment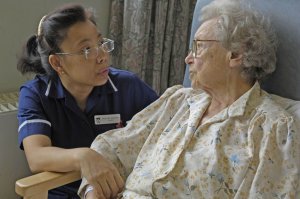 Main Address
Department of Human resources
Jenner Building
Whittington Hospital
Magdala Avenue
London N19 5NF
020 7288 5131
Hours
Monday to Friday
9am – 5pm
**********************************************************
IMPORTANT INFORMATION FOR LAL MLA APPLICANTS
There have been recent incidents of fraud where MLA applicants are being targeted by a third party claiming to be from Whittington Health and offer jobs.
The individuals are asking for large amounts of money upfront – this is not something Whittington Health would do so DO NOT SEND ANY MONEY.

If you receive offers of employment from any of the following email addresses, name or telephone numbers DO NOT RESPOND but please report to your local police as soon as possible:
Whh-tr.employeeservices-whitthealth@nhs.net

whittingtonhospital.nhs@gmail.com

Andrew.dickson@nhs.net

Telephone: +447937061401

Telphone: +447031941476

Dr. Andrew Dickson

Dr. Andrew.D.Humphrey

Emma Jane Hallam
Please also be aware that they are sending out forged HCPC registration certificates, HCPC registration forms, accommodation booking forms and tenancy agreements.
 
*************************************************************
If you find a suitable vacancy we recommend you apply early, as we sometimes need to close applications for popular roles before the advertised closing date due to the high volume of applicants our roles attract.
We aim to shortlist candidates within one week of the application closing date. Please check your junk email folder during this time, as emails from Health Jobs UK may be blocked by your email provider.
If you haven't heard from us within two weeks of the application closing date this usually means that you haven't been shortlisted. If you would like to know why you weren't shortlisted for a role you're welcome to contact the appointing manager for feedback.  Their contact details can be found in the job advert.
General Enquiries
Recruitment Operations Manager
Interviews
For most roles at our Trust you will need to sit a work related assessment and an interview. If you're successful at interview you will be given a verbal conditional offer over the phone or in person by the lead interviewer. This will be followed by an email from your dedicated recruitment administrator with your conditional offer letter within three days.
New starters
All of our jobs are offered on a conditional basis pending employment checks. Following successful checks we will arrange a start date with you. We aim to confirm your start date within 30 days of you receiving your conditional offer letter.
Forms for new starters
Please complete and bring along the following forms on your first day.
Employment checks
Employment checks can include the following, depending on your role:
Proof of eligibility to work in the UK
Proof of your permanent address
Disclosure and Barring Service (DBS) clearance formerly CRB
Occupational health
Professional registration
References from previous employment or education
Following successful employment checks you will be sent an unconditional offer letter and your contract, usually a week before your start date.

DBS clearance
Please complete the following form and send it to your recruitment administrator when you have received a verbal conditional offer.
If you already hold DBS clearance you will be asked to show the original certificate to your recruitment administrator, otherwise you will be required to apply for a new one online via the link in your conditional offer letter.
Your first day
On your first day please go to HR reception at 9.30am with your completed new starter forms and a signed copy of your contract. HR reception is located on the ground floor, Jenner Building at The Whittington Hospital
If you received a B clearance you will also have an appointment with occupational health.

You will then go to your department and start your new role.