Community Simulation Hub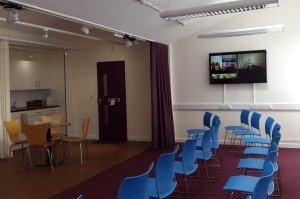 Main Address
Crouch End Health Centre
45 Middle Lane
London
N8 8PH
020 7288 5185
Our Community Simulation Hub is a training facility for healthcare professionals to learn and practice their skills in a realistic environment.

Further Information
Facilities
Simulation suite (capacity up to 20 people)
Training/debrief room (capacity up to 15 people)
The simulation suite can be set up in a variety of ways including as a:
Home
Hospital outpatient clinic
GP practice
Hospice
Use
Whittington Health colleagues and external organisations can use the Community Simulation Hub. Simulated environments are particularly suitable for behaviour change education and training focused on patient-centred care.
The rooms can be booked for the delivery of your own training, or you can attend one of our accredited education programmes.
Education programmes
We offer a range of accredited education programmes, delivered at the Community Education Hub.
Programmes include:
Chaperoning
Making every second count
Protecting vulnerable adults
Transition to parenthood
Please contact us for programme information including objectives, content and dates.
Cost
The Community Simulation Hub is free to use for Whittington Health colleagues.
Charges apply to external organisations.
Course fees apply to education programmes.
Please contact us to discuss prices.