Chemotherapy Production Unit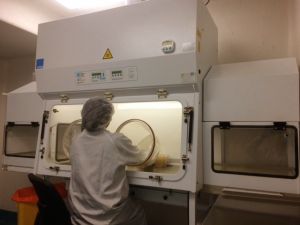 There is a dedicated team of experienced pharmacy staff who are responsible for preparing patient-specific chemotherapy doses for individual patients during their visits to the chemotherapy day unit. Chemotherapy is prepared in a bespoke aseptic unit which ensures that the product is chemically stable and free of any contamination.

All staff receive in-house personalised training before they are ready to work in the unit.
Aseptic preparation of medicines at Whittington Hospital is audited every 18 months by external inspectors.
The last audit report in June 2016 commended the staff for the improvements made since the previous audit and for maintaining a high quality service.