Children and Young People's Nursing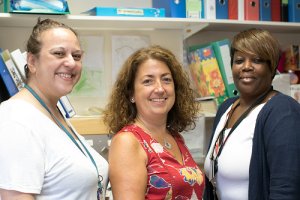 Community Children's Nursing
The Community Children's Nursing service is made up of many elements, including the generic Community Children's Nursing (CCN) team, Childrenís Hospital@Home (H@H), the Paediatric Primary Care (PPC) team, Childrenís Continuing Care team and Life Force (childrenís palliative care). Together these teams help children with nursing needs to stay at home. The CCN and H@H teams' roles include assessment and treatment of the unwell child. The continuing care team organises packages of care, on-going assessments and extra support such as overnight care for children with complex needs. Life Force is a team of clinicians, carers and play specialists who care for children with palliative care needs. It provides respite care and symptom management and helps to ensure that end-of-life care is given in line with the patientís wishes.

Children and Adolescent Mental Health Services
Simmons House is also part of our children's service and we have a residential mental health unit for the effective care and treatment of 12 resident 13-18 year olds. Our Registered Mental Health nurses work with a multi-disciplinary team offering therapies, education, clinical care and support.