News and Calendar of Events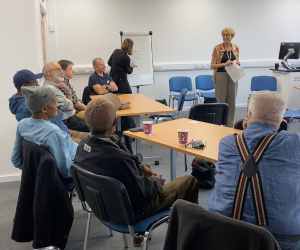 Joining a support group or attending an event offers a chance to talk to other people who may be in a similar situation and facing similar challenges.
At the Whittington we have developed a wide range of Health and Well-being events and groups for both patients and their family and friends to provide a variety of support. Click the tabs below to browse through upcoming events.
Latest news
We're excited to announce a few new additions to our support service, coming in 2024:
We will be launching the Macmillan Welfare Benefits Service, delivered by Barnet Citizens Advice.
Massage and physio for cancer patients.
Six week Cognitive Behaviour (CBT) course for Help Managing Hot Flushes & Night Sweats.
Workshops on Intimacy following a Cancer Diagnosis
Wellbeing Workshop
Please watch this space for more details.
All of our workshops/courses take place in the Whittington Education Centre unless otherwise stated.
Calendar of events

December:
5th December 2.30-4.45pm C Factor
19th December 2.30-4.45pm C Factor
21st December 2.00-3pm Session for Newly Diagnosed Patients (on Zoom)
January
9th January 2.30-4.45pm C Factor
16th January 2.00-5pm Prostate Cancer 'Get Together'
23rd January 2.30-4.45pm C Factor
February
29th February- HOPE course starts
March