Nursing and Midwifery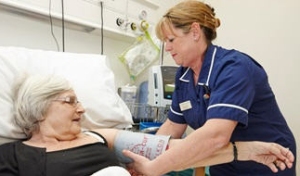 Nursing
The District Nursing Service and Acute Hospital of Whittington Health recruits
Staff Nurses to work in the acute hospital
and also community health centres across the Boroughs of Islington and Haringey through Whittington's Nurse Bank. These areas enjoy excellent transport links.
The Community Nurse will work closely with local General Practitioners (GPs) and health and social care providers in an integrated way, closer to home to meet the needs of the local population.
The nurses working in the acute hospital can enjoy working across a number of different specialties. Whittington Health NHS has developed as a pioneer site to become an Integrated Care Organisation. Nurses have the flexibility to work in hospital and community areas. We are committed to making the most of opportunities to work across traditional healthcare boundaries to bring real benefits to our patients and users.
Midwifery
We are looking to recruit registered midwives to work on the labour ward at our highly regarded maternity unit through our Nurse Bank. We care for 4000 women per annum who come from an ethnically diverse local population. To work with the midwifery team you must have current post registration experience and ideally to be able to suture and cannulate. The labour ward comprises 8 delivery rooms and a 3 bedded recovery/high dependency area which is supported by maternity staff nurses. We have two birthing pools on the labour ward and wireless telemetry to promote normality for women with a high risk pregnancy. We actively promote VBAC and have an enhanced recovery care package for women undergoing elective surgery. We consistently achieve 100% for 1:1 care in labour.
How can I join the Nursing and Midwifery Bank?
Page last updated: 21 Sep 2017