Administrative and Clerical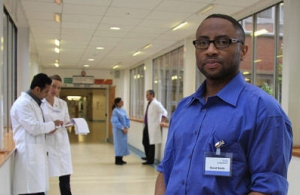 Whittington Health's priority is to provide the right care, at the right time and in the right place for our patients. We provide a large range of services from the hospital, including accident and emergency (A&E), maternity, diagnostic, therapy and elderly care. We also run health services from 30 community locations in Islington and Haringey.
Bank admin and clerical staff may be found at any locality across any of our services. Whittington's Switchboard service operates 24 hours per day and a team of operators respond to an excess of 20,000 calls per week. The Access Centre consists of the Appointments and the Admissions services. These services are responsible for booking appointments across most specialties within the acute hospital either face to face, over the reception, by telephone or through the post. Secretaries provide office support to hospital doctors or health service managers across the organisation.
To work on the Admin and Clerical bank you will need some experience of working in an office or health centre environment. You will also need good IT and communication skills.
How can I join the Administrative and Clerical Bank?
Page last updated: 21 Sep 2017