Allied Health Professional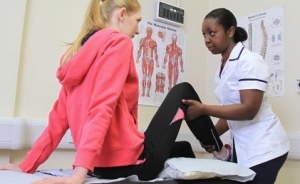 There are all sorts of roles available within the allied health professions. An allied health professional treats a broken toe or even assess and make recommendations for someone's diet. The allied health professions (AHPs) include everything from podiatrist, dietitian, and music therapist, to physiotherapist, diagnostic radiographer, therapeutic radiographer, and speech and language therapist.
Whittington Health employs a wealth of Allied Health Professionals and through the Temporary Bank you will have access to work flexible hours across any of our specialties. The following list provides you with a snapshot of the roles most in demand within Whittington Health:
Biomedical Scientists
Occupational Therapists
Physiotherapists
Radiographers
Speech and language Therapists
How can I join the Allied Health Professional Bank?
Want to find out more?
Read the latest London AHP newsletter,
click here
Page last updated: 21 Sep 2017