Additional services targeted for children and young people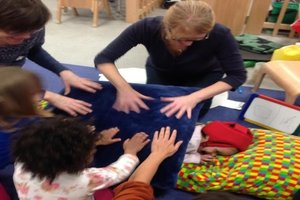 The Speech and Language Therapy Service for Children who are Deaf
We are a small team of Specialist SLTs working with deaf children who live in Camden and Islington.

We support children with permanent deafness (both sensorineural hearing loss and permanent conductive hearing loss), including:
Pre-school aged deaf children (Birth - 5 years) and their families. We support children and families in their home and/or in nursery, working closely with the Advisory Teachers for Deaf Children.
Deaf children attending Frank Barnes School for Deaf Children in Camden ( aged 2 -11 years)
Deaf children attending Laycock Provision for Deaf Children in Islington (aged 3 – 11 years)
Outreach service. Deaf children attending mainstream schools are supported by the SLTs working in the mainstream schools teams. We are able to offer specialist advice and support to your regular therapist if required.

How to make a Referral
You can refer your child yourself, or your Teacher of the Deaf, hospital, or Health visitor can refer to us with your consent.
Please contact
Wendy Martin, Clinical Coordinator, Speech and Language Therapy for Children who are Deaf
Tel: 0207 391 7054 ( Tues, Weds, Thurs)