Training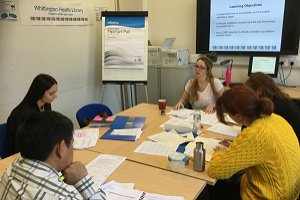 All training sessions are currently cancelled, we will re-evaluate at the beginning of June.
We will be trialling delivering training online, please get in contact if your needs are particularly urgent.
The Library offers the following training courses, to book a place or find out more, call us on 020 7288 3580 or email
whl@nhs.net
.
Very useful to be able to read literature in a critical way. Enables me to feel confident in the literature that I'm using to support my evidence based practise - Library Survey 2019
Literature searching
Learn how to devise and execute a good search strategy using both keyword and subject heading searches, search primary research databases effectively by combining searches using AND/OR operators, refine your results using limits; export, email, save your results.
Friday 31st of January 13.30-15.30
Wednesday 19th February 12.30-14.30
Thursday 19th March 14.00-16.00
Introduction to the Critical Appraisal of Quantitative Research
Introduce the main concepts involved in critical appraisal of research, including CASP checklists, discuss features of quantitative research, including basic statistical concepts of power, presentation of results, confidence intervals and P values; appraise a quantitative paper (RCT) in detail, using the appropriate
CASP checklist
.
Wednesday 29th January 13.00 - 16.00
Monday 24th February 10.00 - 13.00
Thursday 26th March 13.30 - 16.30
Introduction to the Critical Appraisal of Qualitative Research
Learn how to understand key elements in the successful and accurate appraisal of a paper, discuss the features of qualitative research and the key terminology associated with it, and use a
CASP checklist
to critically appraise a qualitative research article.
Tuesday 11th February 13:30 - 16:00
Wednesday 4th March 13.00 - 15.30
Monday 30th March 9.30 - 12.00
Introduction to BMJ Best Practice
All NHS staff now have access to BMJ Best Practice, a clinical decision support tool designed to be used at the point of care. It is available on all Whittington desktops and has information on thousands of clinical topics, including: treatment algorithms, differential diagnoses, procedure videos and even information for patients. This course will show you how to get the best out of this excellent piece of new software.
Wednesday 27th November 12.30 - 13.30
Thursday 12th December 13.30 - 14.30
Endnote
Endnote is bibliographic management software designed to simplify the process of citing references. You can use it to:

Store your and organise your references
Download references from databases like PubMed and HDAS
Automatically manage and insert references in Microsoft Word
Sync references with Endnote Web the online version of Endnote
Endnote is available for staff working for Whittington Health Trust. Contact
richardpeacock@nhs.net
to request installation. You will need to provide the asset number of the laptop or PC where you want the programme installed.
The library provides 1-to-1 training sessions for Endnote on request. This will cover how to download, store and organise your references, as well as how to insert references into documents and sync references with the online version of Endnote.
If you would like to book a session please contact the library on
whl@nhs.net
.