Reflective Reading Club for Nurse Validation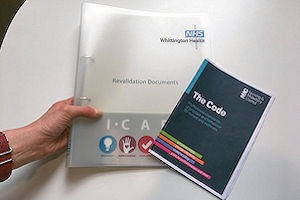 Held once a month, the Reflective Reading Club will earn you a valuable 3 hours of credited CPD time that you can use towards the 35 hours of CPD that you need to revalidate. Our meetings take just 1.5 hours, so just ask your manager!

This is how the Reflective Reading Club works:
You let us know you are interested and tell us your preferred attendance date by emailing whl@nhs.net
We send you a journal article and a small checklist of points to consider when reading it. Make notes as you read the paper - you do this in your own time and this earns you 1.5 hours CPD time
We meet for the club online via Microsoft Teams and discuss the article in a small group, reflecting on points whilst working our way through the checklist. Any notes that you make on the checklist can be written up into a reflective piece and submitted into your portfolio as evidence of reflective activities – this earns you another 1.5 hours of CPD time.
YOU GET A CERTIFICATE of participation and attendance! You can attend 2 sessions that will count for a total of 6 CPD hours!

The Reflective Reading Club dates for 2023 have been finalised and are listed below, including the time and where they will take place, and the title of the article to be discussed:
Wednesday 12th April 10:00-11.30 -
"Nurses' burnout and quality of life: A systematic review and critical analysis of measures used"
Thursday 4th May 13:00-14.30 -
"Gender and ethnicity's influence on first-year nursing students' educational motivation and career expectations: A cross-sectional study"
Monday 19th June 10:00-11.30 -
"Nursing in the 21st century: results of a pilot survey on attitudes towards nurses and nursing"
Tuesday 11th July 11:00-12.30 -
"Addressing the current challenges of adopting evidence-based practice in nursing"
Wednesday 16th August 13:00-14.30 -
"Explaining nursing attrition through the experiences of return-to-practice students: a mixed-methods study"
Thursday 21st September 10:00-11.30 -
"Learning from the professional midwifery advocate role to revise clinical supervision in nursing"
Tuesday 10th October 11:00-12.30 -
"Reflection and you"
Wednesday 15th November 10:00-11.30 -
"First year pre-registration nursing student perceptions of community nursing roles: a thematic analysis"
Monday 18th December 13:00-14.30 -
"Being conductor of the orchestra: an exploration of district nursing leadership"

"I thoroughly enjoyed the session… I had been putting off revalidation but now I am keen to get started!"
Safeguarding children nurse advisor
"This has encouraged me to step out of my box and the effect is more awareness of ways in which to make a difference, even in a small way."
Community Immunisation nurse
Contact Whittington Health Library at
whl@nhs.net
or 020 7288 3580 to join the club or find out more.
Page last updated: 28 Mar 2019