Reflective Reading Club for Nurse Validation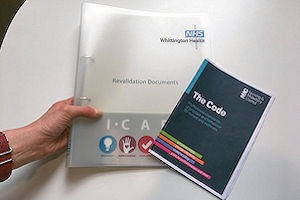 PLEASE NOTE: the library has reopened from 22nd July after a period of lockdown following the COVID-19 outbreak. However, we have cancelled the August date; at this stage of our return the numbers permitted in the library are strictly limited and we are unable to host the Reflective Reading Club sessions in our meeting room while maintaining social distancing. We will be reviewing whether our services can be extended further from the start of September.
Held once a month in the Library Meeting Room, the Reflective Reading Club will earn you a valuable 3 hours of credited CPD time that you can use towards the 35 hours of CPD that you need to revalidate. Our meetings take just 1.5 hours and they're timed to take place during shift changeover - so just ask your manager!

This is how the Reflective Reading Club works:
You let us know you are interested and tell us your preferred attendance date
We send you a short journal article and a small checklist of points to consider when reading it. Make notes as you read the paper in your own time and this earns you one and a half hours CPD time!
We meet for the club and discuss the article in a small group, reflecting on points whilst working our way through the checklist. Any notes that you make on the checklist can be submitted into your portfolio as evidence of reflective activities – this earns you another 1.5 hours of CPD time.
YOU GET A CERTIFICATE of participation and attendance! You can attend 2 sessions that will count for a total of 6 CPD hours!

The following dates are available:
10/08/2020 11.30-1pm - CANCELLED
22/09/2020 12.30-2pm
21/10/2020 10.30-12pm
20/11/2020 11.30-1pm
14/12/2020 1-2.30pm

"I thoroughly enjoyed the session… I had been putting off revalidation but now I am keen to get started!"
Safeguarding children nurse advisor
"This has encouraged me to step out of my box and the effect is more awareness of ways in which to make a difference, even in a small way."
Community Immunisation nurse
Contact Whittington Health Library at
whl@nhs.net
or 020 7288 3580 to join the club or find out more.
Page last updated: 28 Mar 2019