Testimonials
"The Magic Touch" by Dara Rigal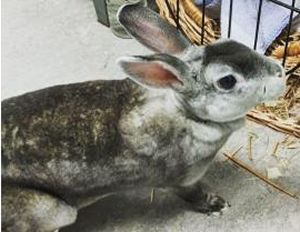 There had been rumours of a rabbit materialising over a long weekend to take up residence in Ifor Children's Ward. However, my daughter and I were still surprised when we gazed out of the window during a consultation in the familiar surroundings of Clinic 4D and saw a teenager gently stroking a rabbit in the outdoor play area. We felt a bit like Alice in Wonderland seeing this animal in the unlikely place of the 4th floor of an urban hospital.

After the appointment, we were delighted to meet Holly the rabbit. We were soothed and calmed by sitting outside and running our hands through her soft and fluffy fur as she sat contently on our laps. In a time of advanced medicine and complicated technology, I was moved by such a simple yet insightful way of caring for children (and their parents!). Perhaps for just a moment, the struggles of the teenager we saw became lighter as she focused on Holly, a gentle and non-judgmental creature.
We are grateful that we are under the care of the Whittington, a community hospital in a big city. Indeed, seven years ago during our first experience of Ifor Ward, the Paediatrician that we saw had the intuition and compassion to practice the 'art' of medicine alongside its science. Having Holly shows similar wisdom of healing the child, rather than just treating the condition.
With Holly the Whittington Hospital shows the 'Magic Touch' by stepping outside conventional practice, in the care of patients and their families.
Boy with broken leg
Hannah
Food Challenge (Parent)
Rosanna (Nurse)
John (Consultant)
Neha (FY1 Doctor)
Lisa (SHO)
Jake (SHO)
Page last updated: 24 Aug 2018