Meet our rabbits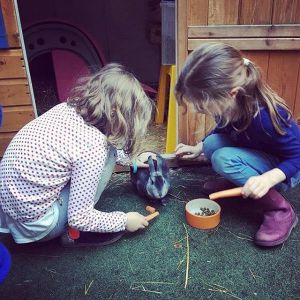 In October 2017, we welcomed Holly the rabbit to Ifor ward. To our knowledge, she was the only resident ward pet in a paediatric inpatient department in London.
Sadly Holly passed away peacefully in her sleep in October 2018. She will be missed by all the children and young people and staff from the Ward, Clinic and across the Trust and Community. Holly brought looks of joy and fun to many people and became very popular in short period of time. Having Holly as our ward pet really did identify the importance of pet therapy to sick children and how the positive effect having her had on their health. Farewell to the softest cutest Bunny.
In December 2018, we welcomed two new rabbits to Ifor ward - Del and Raquel!
This is where our rabbits live
This is where our rabbits eat
Bringing our rabbits to see patients, parents and staff
Part of the handover round from night to day!
Page last updated: 10 Jun 2019