Before you arrive
Your letter from the Admissions Office will explain anything you need to do before coming to hospital. It is very important that you follow these instructions or your treatment might be delayed.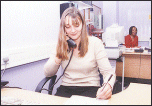 Confirming your admission
Your letter gives you an admission date. Please check this date. If you have any problems with attending on that date, ring the telephone number of the letter as soon as possible. On the day that you are due in, please telephone the Admissions Office to check that a bed is available for you. Unfortunately, emergency admissions sometimes mean that a planned admission has to be cancelled or delayed. The telephone number will be printed on your letter. Please do not come to the hospital without checking that a bed is available.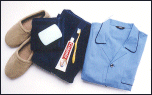 What to bring
We suggest you bring:
Two sets of night wear
Dressing gown and slippers
Contact numbers for close relatives
Toiletries
Bath towel and flannel
A box of tissues
A razor and shaving materials (not all wards have electrical shaver points)
A small amount of money for purchases from the hospital shops and trolleys, TV hire and for telephone cards
Things to do such as reading material, writing materials, crossword puzzles, knitting, Walkman radio (with earphones)
The name, address and telephone number of your general practitioner (GP)
Any medicines that you are taking at the time you come into hospital and your steroid card (if you have one)
You will have a small locker next to your bed for your personal possessions. Please note that this is not lockable. Please remember that storage space is very limited. It would therefore be helpful if you did not bring with you any clothes that you will not need during your stay in hospital. Only bring with you one or two sets of day clothes. The hospital will supply sheets, pillows and bedding.
Please do not bring
Valuables, for example, jewellery, cheque books or credit cards
Large sums of money
Large amounts of food
Other clothes that you will not need
Alcohol, cigarettes or pipes
Mobile phones
Valuables
Please do NOT bring in valuables, jewellery or large sums of money. If this is unavoidable, please hand in all such items to the nurse in charge of your ward on your arrival. They will be listed and locked in a safe and you will be given a receipt. The Whittington cannot accept liability for the loss of items that are not handed in for safekeeping.
Medicines
If you have been taking any tablets or medicines before your admission to hospital, either prescribed by your GP or bought from the chemist, please bring them with you. Show them to your nurse and doctor when they come to see you on the ward. It is very important that we know exactly what medicines you have been taking so that we can decide on the best treatment for you. Once the doctor has seen them, these medicines must be taken home at the earliest opportunity. Please do not leave them in or on your bedside locker, as they may be a danger to children visiting the ward. Occasionally the medicines you bring into hospital may no longer be suitable for you. If this is the case the nurse in charge of your ward will send them to the hospital pharmacy to be destroyed.
Page last updated: 04 Jul 2018