The Advanced Development Programme for Clinicians
Winner of Health Education North East Central London (HENCEL) Award for Patient & Carer Centred Education 2013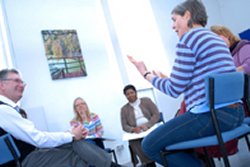 The Advanced Development Programme (ADP) trains health care professionals in strategies and skills to support people with long-term conditions to optimally self-manage.
It offers a fundamentally person-centred approach, aimed at developing a collaborative partnership, supporting behaviour change and effectively exploring motivation
Objectives
The ADP focuses on developing skills to facilitate 3 key enablers for supporting successful self-management:
Collaborative agenda setting: the health care professional co-creates an agenda with the person living with a long term condition and finds out what their priorities are. Both parties share what they would like to achieve and negotiate how they will work together. This signals from the beginning that the person with a long term condition is an active partner in their own care and that both parties will take a partnership approach.
Goal setting and action planning: uses a person-centred approach facilitated by the clinician to elicit and agree on specific, realistic goals which are owned by the person living with the condition.
Goal follow-up: Ensuring that there is continual regular contact between patients and their health care providers to offer support, encouragement and advice on their goals.
The programme includes an understanding of the theory and evidence base, and opportunities for experiential practice. It includes concepts of "Patient Activation" and draws on best practice from clinical communication skills, motivational interviewing and CBT approaches.
Skills covered include:
Empathy and building rapport
Building partnership
Exploring the patient's perspective
Supporting decision making and exploring ambivalence
Exploring importance and confidence
Supporting autonomy and choice
Inviting goals and action planning for success
Exploring barriers to change and supporting problem solving
Effective follow-up
Working differently with people at different stages of 'activation'
How ADP is delivered
The programme comprises three 3-hour sessions, each approximately one month apart, with the specific intention that participants can practice the new approach in between sessions and share learning in follow-up sessions.
ADP is co-delivered by a healthcare professional experienced in working collaboratively with patients to support self-management, and a person living with a health condition with personal experience of the journey towards optimal self-management.
What are the benefits of attending the ADP?
Participants report:
More productive consultations
Ability to have difficult conversations in an effective and collaborative way
Increased confidence in supporting patients to self-manage
Higher job satisfaction
A recent local evaluation
A survey of health care professionals found that:
87% of health care professionals who responded to the survey said "the ADP has significantly improved my knowledge and understanding of how to support patient self management."
Barnard, M; Mulnier, H; Noble, L; Potts, H; Reid, A., (2013) Co-creating Health Phase 2. Joint Local Evaluation. Whittington Health NHS; Guy's and St Thomas' NHS Foundation Trust. P.12.
How participants access ADP
The course is commissioned by Islington CCG and is available to health care professionals working with people who live in Islington.
A large variety of health care professionals attend and one of the consistent areas of positive feedback is the benefits clinicians experience from learning alongside a variety of different professions from a range of services and specialties.
Testimonies from clinicians
"The ADP course is both practical and fun. The course gives practical tips on how to help patients take control of their chronic disease and make behavioural changes. This has given me new ways in which I can help my patients who I feel have got stuck in a clinical rut.
Several of my patients have now been on the 7 session course and it is noticeable how much they have grown in confidence in living with diabetes. They found the course enlightening as well as challenging and have all said they would recommend it to other patients."

Dr Nick Brand, GP
"As well as giving you the tools to help patients manage their own conditions the course is a very clever mix of consultation skills and dealing with difficult consultations. I changed the start of my consultation from "What can I do for you today?" to "what are we doing today?......what else were you thinking of talking about" …ie using language that immediately shifts the responsibility from me taking over all of it to a more partnership approach of setting the agenda for the consultation together.

I found the most useful thing was being able to try out different ways of opening a consultation. For me, it has been really brilliant at helping me to manage those patients who I have previously found most difficult to manage. Where some of my patients, those I would call my "heart sink patients", have become very dependent, I found these techniques really helped to get away from the doctor as "the drug.

I have been on a variety of consultation skills courses in the past. The difference between this and other consultation skills training is that it really does address the balance of responsibility, and offers practical ways of engaging patients actively in their own care."
Dr Gillian Greenhough, Islington GP
Page last updated: 07 Oct 2015