Learn about our Superheroes puppet and film making project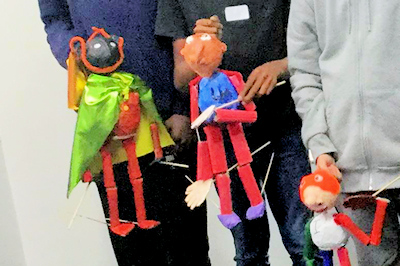 The Islington Mainstream Speech and Language Therapy team worked in collaboration with the Little Angel Theatre to deliver summer courses and after school clubs for young people with Autistic Spectrum Conditions (ASC) and other communication needs.

The key aim of this collaboration was to deliver a socially rich experience of team work, friendship, and interpersonal skills using the medium of puppetry and film making. This four-day summer course was designed to provide young people with high quality leisure activities and social opportunities to meet others with similar strengths, needs and interests.
The young people were targeted through local secondary schools and health services in Islington borough. In total 11 young people aged between 13 and 18 attended the course.
Over the course of four days, the young people were supported to:
Design their own superhero character and make it into a 3-D table top puppet
Create a character profile to have powers linked to their personal qualities
Learn simple puppet performance techniques
Create and rehearse their scenes in small groups
Film the puppets to create a short film
Showcase their puppets to parents and visitors at the closing afternoon

The course was led by Little Angel Theatreís expert puppetry workshop leaders and facilitated by up to 4 speech and language therapists each day. The therapists were able to offer specialist advice to ensure the young people were able to access the course activities and support their social interactions and communication skills and/or any additional sensory or emotional regulation needs. The therapists also supported the young people to set their own personal social communication goal to work towards during the week.
Parents were invited on the closing afternoon to see the completed puppets and celebrate the success of the course. Young people took home their puppets to keep and were given a summary report about what the facilitators had noticed about each of them and a certificate for completing the course.
Following the success of this year, it has been confirmed for the Little Angel Theatre and Whittington Health to run the Puppet and Film Making course again in summer 2020.