ITU/Critical Care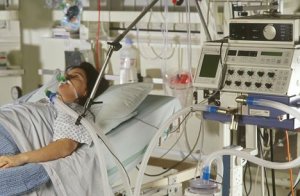 Main Address
The Whittington Hospital
Magdala Avenue
London
N19 5NF
020 7288 5470
August 2020 update: We are frequently reviewing our Visitors Policy. Visit this page to find out how you can keep in touch with your loved ones.
Critical care encompasses both intensive care and high dependency levels of support.

At the Whittington, this is provided in a single area for adults with a range of emergency conditions, as well as planned care following major surgery. Patients requiring complex monitoring and support for several failing organ systems are designated 'level 3 care' - intensive care - whereas patients who need less support but are too sick for a ward are 'level 2 care' - high dependency.

Additionally, the critical care outreach service, which operates seven days a week, visits the wards to follow-up recovering patients recently discharged from the unit as well as assessing patients meeting certain early warning trigger criteria, level 1 care. Early intervention on the ward can avert deterioration and avoid the need for critical care admission.

Our critical care unit has recently relocated to new purpose-built premises in the new building, closely linked to the emergency department, operating theatres and the admissions ward.

We provide all the necessary support for the sickest and most unstable patients who may need ventilation to support breathing, cardio-vascular support for shock and dialysis for renal (kidney) failure. This can be for major infections, after trauma or following extensive surgery. Patients receive round the clock nursing care and our doctors are always resident in the unit. In addition, a critical care consultant is continuously on duty. The hospital's microbiologists, radiologists, physiotherapists, nutritionists, speech and language therapists and pharmacy also provide their essential input.

The unit's facilities include a waiting area for relatives, as well as overnight accommodation. Each bed space has a wide range of support equipment and monitors and there are 4 individual side-rooms for isolation purposes.