Accommodation
Accommodation - Welcome
The Whittington Hospital has its own residential accommodation, and local agreement with London Strategic Housing, to manage the Trust accommodation facilities and Sussex Way.
Situated close to many local shops and entertainment facilities Sussex Way has good travel links, buses from the Holloway and Hornsey Roads, and train / tube travel from Crouch Hill, Archway, and Upper Holloway. The rent for this property is £641.32 per person, per calendar month, including all utility, service charge and Council Tax.
Tenants have their own room with en-suite facilities, as part of a flat, housing six or seven people. Each flat has a fully fitted kitchen with microwave, cooker, and fridge / freezer and is adjoined by a dining area. Each room is furnished with a single bed, wardrobe, curtains, and desk with drawers, storage space, desk lamp and computer, television and phone links. The rent also includes a cleaning service for the shared areas. The scheme also has its own laundry room facilities.
Take a virtual tour of Sussex Way

For further information please contact:
Annie West
Accommodation Manager
020 7288 3088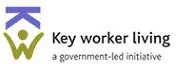 Key Worker Living

The Key Worker Living government initiative is helping key workers in London, the South East and East of England to buy a home, upgrade to a family home or rent a home at an affordable price. You should apply to your local HomeBuy agent.

Who is a Key Worker?
For the purposes of this scheme, a key worker is someone employed by the public sector in a frontline role delivering an essential public service in the areas of health, education and community safety where there are serious recruitment and retention problems.

Further Information:

Key Worker Living
FAQ
Questionnaire
NHS staff assisted to-date
HomeBuy agent contacts

What is a HomeBuy Agent? A HomeBuy Agent is a registered social landlord that markets housing schemes including those for key workers across an area. They deal with applications and arrange the help you need.