Patient Support Group (PSG)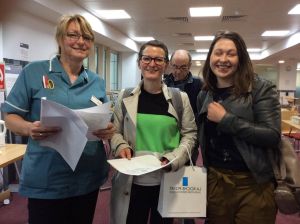 Since May 2015 the Clinical Nurse Specialists have been running a monthly mixed cancer Support Group. All Cancer patients are welcome.

It is held at the Whittington, generally on the third Monday evening of the month, from 6pm to 8pm.
It is well promoted and patients are informed via posters and in clinic with leaflets.
Each month we aim to provide a guest speaker or service. It is well attended and patients are asked for suggestions and feedback, which is generally positive.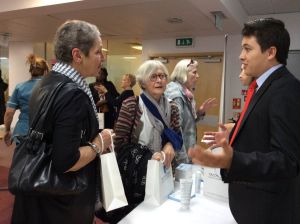 The atmosphere is informal, welcoming and we encourage group discussion and activities.
We value all our patients and encourage them to attend.
These health and wellbeing events have proved popular and beneficial to our patients, covering a wide range of topics from relaxation techniques through to Sun protection with free samples.
To date we have enjoyed the Tenovus, singing sessions. We have held general knowledge on health quiz. Provided expert advice for cancer patients from Dietician, more expert advice from Islington Benefits and working with a disability team, stress relieving with the Therapaws team, (visiting Pet therapy). Sessions for increasing activity and exercise from the amazing Tottenham Hotspur Foundation team. Laughter Yoga and much more.
Every month we do our best to provide new, informative and enjoyable events for our Whittington patients and their partners/carers. As nurses we enjoy seeing our patients in an informal setting where they are enjoying themselves as well as gaining benefit from advice and services laid on.
Refreshments and light snacks are also provided, a nice cup of tea and a chat are always well received.