Acute Oncology Service (AOS)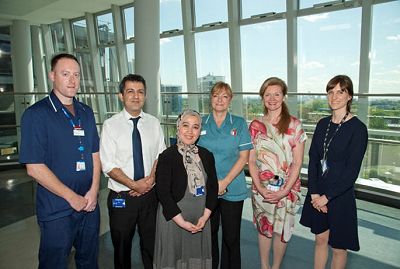 The Acute Oncology team are a team of specialist cancer doctors and nurses who have a broad knowledge and experience of cancer, the problems it may cause and the treatments for it.

They will see inpatients at the Whittington hospital who are admitted with:
A suspected cancer diagnosis from imaging tests
Symptoms related to their cancer
Suspected progression of their cancer
Side effects related to treatment for their cancer
The role of the Acute Oncology Team is to support these patients and their families throughout their hospital admission, ensuring that the necessary tests are carried out to enable an accurate diagnosis of their problem, while supporting them and their family.

If the patient is already known to a specific cancer team the Acute Oncology Team will liaise with that team to ensure any investigations (tests), treatment and care meets the needs of the individual.
The Acute Oncology Team also works closely with the palliative care team and has a palliative medicine consultant working with the team. This ensures that patient's symptoms can be managed effectively and patients and their families can benefit from palliative care input quickly when needed.
The Acute Oncology team are also responsible for any patients who attend hospital with a 'Cancer of unknown primary' (CUP). This term is used to describe any person who is believed to have cancer, following investigations, but where there is no definite idea of where in the body the cancer may have started. The Acute Oncology doctors will also see this group of patients as outpatients and organise the most appropriate tests and treatment for them.
The Acute Oncology Team (AOT) is led by Dr Pauline Leonard, consultant medical oncologist and supported by Dr Ali Rismani, consultant haematologist, Dr Mulyati Mohamed speciality doctor and Patricia Booth and Adam Belton, clinical nurse specialists, who run the Acute Oncology Service.