Care of Older People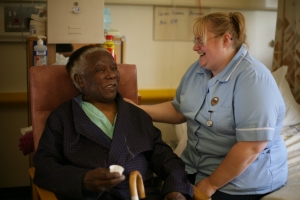 Main Address
Whittington Health
Dorothy Warren Day Hospital
Magdala Avenue
London
N19 5NF
020 3857 3776
The department for the care of older people is a progressive and forward looking department that is striving to provide the best possible care for the older patient.

The department provides in and outpatient services run by five consultants, supported by a multidisciplinary team of specialist doctors, nurses, physiotherapists, occupational therapists, nutritionists and social workers. The Department also work closely with Whittington Health community staff, engages community services and voluntary organisations to ensure the care delivered are joined up.

The majority of the care of the older patient services are based on the Great Northern Building at Level 6 of the Whittington Hospital. Inpatient services are provided within designated care of the older patient wards.

There is a dedicated care of the older patient outpatient services. These services are delivered in the Dorothy Warren Day Hospital and include, general medical follow up, memory clinic, falls management, tissue viability and physiotherapy clinics. Other clinics take place at the hospitalís main outpatient department.
Appointments
The Dorothy Warren Day Unit is open Monday to Friday between 9.00 am and 5.00 pm.
Useful resources
Further Information
Contact us
Telephone:
Cavell Ward: 020 7288 5647
Cloudesley Ward: 020 7288 5448
Meyrick Ward: 020 7288 5447
Dorothy Warren Day Hospital: 020 7288 5081
Helpline
We are here to help you and are always eager to improve things. If you have a query or would like to make a suggestion, or wish to contact us for any other reason, please write to:
Whittington Health
c/o Matron for Care of the Older Patient
Dorothy Warren Day Hospital
Magdala Avenue
London
N19 5NF
Alternatively, you can speak to the matron on the following number 020 7288 5104.
Monday - Friday
9 am - 5 pm
Referrals to the different clinics are through the following pathways:
GP by fax or postal
Following inpatient admission
Internal referrals from other specialities within the hospital setting including from accident and emergency
Community Matrons