Happy Birthday, Wood Green CDC!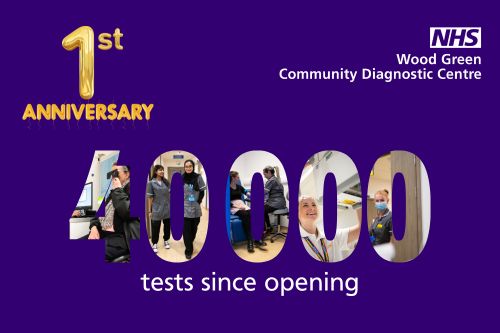 25 Aug 2023
Our Community Diagnostic Centre celebrates its first anniversary today.
Full story
Over 40,000 people have had a diagnostic test performed at the Wood Green Community Diagnostic centre since its opening one year ago today.
The centre, hosted by Whittington Health NHS Trust, is based in The Mall in Wood Green, and brings NHS diagnostic testing into the heart of Haringey.
It is open to residents across north central London and patients can access walk-in blood tests, x-rays and bookable ultrasound and eye test appointments.
Since opening. the centre has performed over 40,000 tests and won a Health Service Journal award for best consultancy partnership with Capital & Regional, who own The Mall Shopping Centre where the centre is based.

Works are in progress in collaboration with Storm Building to expand the centre and later this year MRI and CT scans will be available. There is no hospital in Haringey, so it is harder for local people to access hospital services.
By bringing tests onto the high street, the CDC aims to help reduce health inequalities locally by offering people an accessible and convenient location that is closer to their home.

Jonathan Gardner, Director of Strategy, Development and Corporate affairs at Whittington Health NHS Trust, said "Happy Birthday to Wood Green CDC. I am proud that we are delivering NHS services differently. By bringing diagnostic tests into the heart of Haringey, we are reaching an underserved population and tackling the health inequalities that residents face. Wood Green CDC is now seeing 72% of its referrals from the 30% most deprived areas of the borough."

A recent patient who visited the CDC for an eye test said, "I had a very good experience, the appointment was efficient, staff were friendly, and the tests were explained well."

This incredible achievement would not have been possible without the dedicated efforts of the CDC staff. Their commitment and hard work have resulted in the success of the centre over the past year. We hope to see more patients in future years with the addition of more services such as MRI and CT scans.

The Wood Green CDC is located on the first floor of The Mall in Wood Green and is open Monday – Friday 8:30am – 6:30pm and Saturday 9am – 4:30pm.