Very cold nights are expected this week.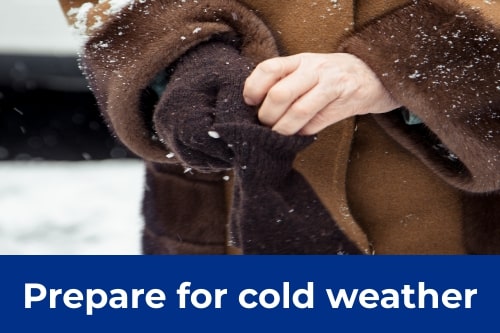 09 Dec 2022
Very cold nights are expected this week.
Full story
The Met Office have issued an amber cold weather alert as we will see very low temperatures and icy conditions across the country.
The Met recommends some things you can do to ensure you and your loved ones keep well over this week:
Dress warmly, eat warm food and take warm drinks regularly; keep active.
Look out for friends and family who may be vulnerable to the cold, and ensure they have access to warm food and drinks and are managing to heat their homes adequately.
Try to maintain indoor temperatures to at least 18°C, particularly if you are not mobile, have a long-term illness or are 65 or over.
Avoid exposing yourself to cold or icy outdoor conditions if you are at a higher risk of cold-related illness or falls and stay up to date with the latest weather forecasts on the Met Office website.
If you are concerned about your health or somebody you care for, advice can be obtained from NHS 111 or your local pharmacist.
Stay tuned into the weather forecast.
If you must go out, dress warmly and wear non-slip shoes. Tell someone where you are going and when you will get back. Keep your mobile phone (if you have one) on you and charged.
Clear pavements of ice or snow if you are able and if it is essential.
You can find more useful tips and advice from the Met office on their
'Weather Ready'
webpage.
If you would like more information about how cold weather can affect your health please visit
http://www.nhs.uk/
.