Whittington Health opens a pregnancy and postnatal COVID-19 Vaccination Clinic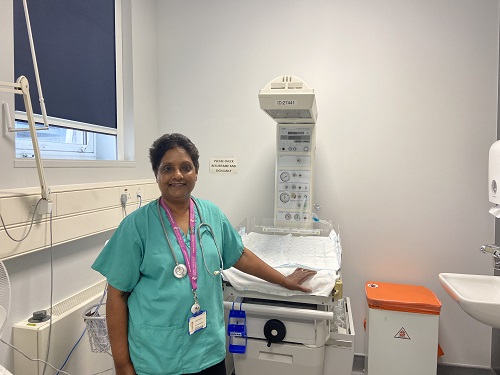 06 Aug 2021
Whittington Health NHS Trust is providing a midwife-led specialist clinic for those who are pregnant or breastfeeding at Hornsey Central Health Centre
Full story
New data shows that the majority* of pregnant woman who are being hospitalised with COVID-19 are not vaccinated. To help people in the local community make an informed decision, Whittington Health NHS Trust is inviting pregnant or breastfeeding women to attend their new specialist COVID-19 vaccination clinic.
The drop-in clinic is open from 9am until 6pm every Monday in August at Hornsey Central Health Centre. Everyone attending will see one of the Trust's midwives for an individual consultation.
In April 2021 the Joint Committee on Vaccination and Immunisation (JCVI) advised that all pregnant women should be offered the COVID-19 vaccine. This is supported by the Royal College of Midwives and NHS England's Chief Midwife, Jacqueline Dunkley-Bent.
Whittington Health's Director of Midwifery, Yana Richens, is keen for women to visit the clinic if they have not had their vaccination:
"It is understandable that some women may feel apprehensive about having their COVID-19 vaccine. But thanks to extensive research, we know that the vaccine is safe for those who are pregnant or have recently had a baby.
Our clinic is a reassuring space to speak to our midwife. A full assessment will be carried out and an individual recommendation made. We welcome those at any stage of their pregnancy, as well as women who are breastfeeding. We will also see anyone else who has questions relating to vaccine safety and fertility."
Consultant Midwife, Logan Van Lessen (pictured) is managing the specialist clinic:
"Our priority is to keep our local residents healthy. COVID-19 can cause serious illness, and an increased risk of premature births as well as stillbirths. We want to do all we can to prevent this from happening to women and babies in our community.
Hundreds of thousands of women globally have been safely vaccinated and experienced no health concerns as a result for them or their baby. Although we have this evidence, I know how reassuring it can be to speak to someone in person. I hope that we will see lots of people at the clinic in the next few weeks."
Following each midwife assessment, and if suitable for the individual, a Pfizer vaccination will be offered on the day. The clinic can offer a first or second dose of the same vaccine if the first was 8 weeks ago or more.
*Source, Royal College of Obstetricians and Gynaecologists (RCOG)
Clinics will be held on:
Monday 2 August
Monday 9 August
Sunday 15 August
Monday 16 August
Monday 23 August
Monday 30 August