COVID-19 Safety Measures Continue after 19 July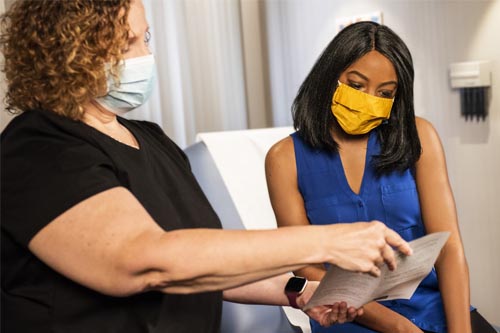 16 Jul 2021
Whittington Health NHS Trust asks public to follow 'hands, face space' in hospitals to keep patients safe after 19 July.

Full story
Patients and visitors to Whittington Hospital and our network of nearly 40 community health centres where we provides services will continue to be required to continue wearing a mask on site, even after 'Freedom Day' on 19 July, unless they are exempt.
Local NHS leaders have explained that whilst restrictions are being lifted in most public places, strict Infection Control needs to be followed in hospitals and healthcare settings, to stop vulnerable people from being placed at additional risk.
We are asking people to wear a mask in our buildings, to wash hands regularly and to practice social distancing. We will also still need to
restrict access to visitors in hospital
and limit the number of people accompanying people to appointments.
Breeda Macmanus, Deputy Chief Nurse at Whittington Health explains: "The public and our patients have been so supportive during the past 15 months and we can't thank them enough. Our ask today is that they keep on supporting us so that we can keep vulnerable patients safe.
"We know that restricted visiting is particularly hard and we review this regularly so that we can increase visiting as soon as possible. COVID-19 is still at a higher rate in the local community than we would like and until infection rates come down, every visitor increases the risk of infection either coming into our hospital or going out with a visitor.
CEO, Siobhan Harrington added: "If you or your loved one had a compromised immune system or were recovering after a serious operation, you would want us to do everything we could to keep them safe. Patients with these conditions are being treated in our hospitals every day, so we need to keep rules in place for a bit longer. Please bear with us and please keep helping us so that we can help you and your loved ones."
We have been able to reinstate limited visiting to our inpatient wards since March. Visiting is for a one hour pre-booked slot to allow all patients to receive a visit where possible and we ask that only one nominated family member visits unless otherwise agreed with the nurse in charge. Exceptions apply in children's wards,
in Maternity
and where patients have specific additional needs.
Everyone should wear a face covering in all of the Trust's sites, unless they are exempt.
The Trust is continuing to keep the situation under review and hopes to relax its rules as soon as it is safe to do so.