Please Treat our Staff with Respect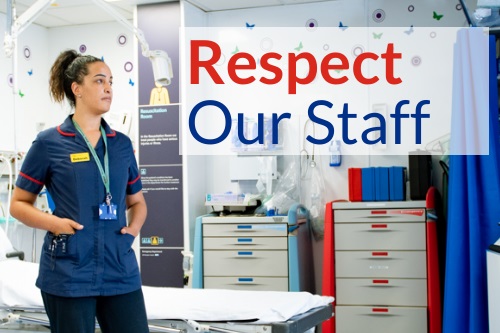 08 Jul 2021
Ahead of Sunday's Euro 2020 final, Whittington Health is asking local people to treat its staff with respect, as frontline NHS staff working in the Trust's Emergency Department report being anxious about what match day may hold in store for them during their shifts.
Full story
Our Staff say that they are worried that a toxic mix of alcohol and emotion will spill over into the Emergency Department with a minority of patients being violent or abusive towards them. Whittington Health is therefore reminding local people that it has a zero tolerance attitude to abuse of its staff.

Over 100 incidents of patients abusing, threatening or being violent towards staff have been recorded in the Emergency Department since September last year. These include incidents where staff were racially abused, were victims of homophobic hate speech and acts of physical violence, threats and intimidation.
A&E staff now meet with local police every fortnight as part of a bid to reduce that figure and training is being provided by former airline crew in how to deescalate situations and manage difficult situations.
Local A&E departments are also extremely busy and patients are being asked to phone NHS111 if they need urgent care but when it isn't life threatening so that they can be directed to the most appropriate service to get treatment as quickly as possible. NHS111 can also make a booking at A&E if a trip to hospital is required though in an emergency people should still dial 999.
Heidi Edmondson, a Consultant who works in our A&E and who has been leading efforts to reduce incidents of violence in the department said: "My colleagues are bracing themselves for whatever Sunday may bring. We are all routing for England to win but we know that a mix of too much alcohol during the game and heightened emotions is likely to lead to injury time for some. Sadly, a minority of our patients choose to abuse the staff trying to treat them which we find really upsetting. We want football to come home as much as everyone else – but we also want to get home safely too."
Siobhan Harrington, CEO of Whittington Health added: "My staff come to work every day to care for people and it is totally unacceptable that they should have to suffer abuse or violence. We will not tolerate this kind of behaviour and will work with police to ensure those responsible are prosecuted."
Our message to local people is simple – please support the NHS Team as hard as you support England by using services responsibly and treating staff with respect.