Whittington Health Accredited as a Living Wage Employer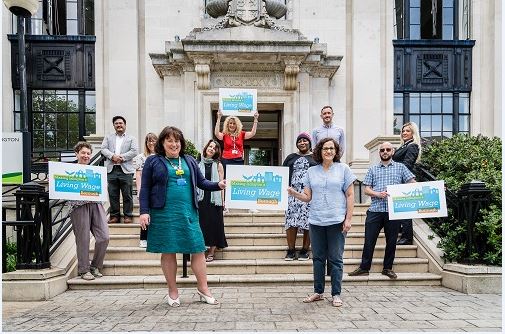 06 Jul 2021
In the week of the NHS's 73rd Birthday, Whittington Health NHS Trust has been formally accredited as a Living Wage Employer, meaning that all staff are now guaranteed to be paid at least £10.85 per hour.
Full story
Whittington Health has been formally accredited by the Living Wage Foundation.
The Living Wage is the UK's only wage rate based on the cost of living. Accredited employers commit to pay staff a minimum of £10.85 in London, and £9.50 outside of London in order to cover their everyday needs.
The Trust is also throwing its support behind an action plan launched by the London Borough of Islington to make Islington, North London's first "Living Wage Borough". It joins a group of seventeen public, voluntary and private sector employers, including Islington Council, Archway Tavern BDP, AHHM, City and London Metropolitan Universities committed to ambitious plans to double the number of Living Wage accredited employers and workers over the next 3 years.
This will result in 3,000 more workers in Islington receiving the London Living Wage by 2024.
All Trust staff are now paid at least £10.85 an hour with the organisation using its buying power to ensure that any workers employed as contractors will in future also be paid the living wage.
Whittington Health's CEO, Siobhan Harrington said: "My colleagues have all worked unbelievably hard during the COVID-19 pandemic and it is simply the right thing to do to make this commitment that they can be safe in the knowledge that they will always receive a living wage for the incredible work that they do."
Laura Gardiner, Director of the Living Wage Foundation, said: "The challenges of the past year have been felt by thousands of workers and families, in Islington, London and the rest of the UK. Many have struggled to keep their heads above water. That's why it's so encouraging to see employers come together to drive the development of good jobs with a real Living Wage. If we are to recover from this crisis, we will need to see more boroughs, town and cities follow Islington's leadership, and commit to provide workers with the security and stability of a real Living Wage."
There are now 221 Living Wage employers within Islington Borough. However, despite a significant growth in Living Wage employers over the past year, there are still 21,000 (12.6%) jobs in Islington that pay below the real Living Wage. The Action Group will work together to increase the number of Living Wage jobs in Islington by 30%.