National Operating Department Practitioners' Day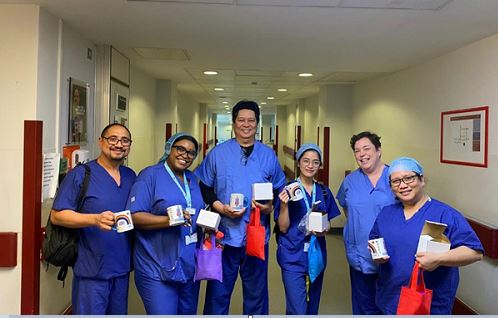 14 May 2021
A versatile profession that you're unlikely to have heard of.
Full story
Today, Friday 14 May, is National Operating Department Practitioner Day.
Here, one of our ODPs, Barbara O'Donnell tells us more about the role, the training and how COVID-19 affected ODPs.

What is an Operating Department Practitioner (ODP) ?
Operating Department Practitioners are allied healthcare professionals who receive training in all areas of Operating Department Practice – anaesthetics, scrub and recovery. The profession is part of the Health Care and Professions Council and registration is mandatory in order to practice.

Most courses take three years, and alternate university time with placements in the different clinical areas, to put theory into practice throughout the course.

What do ODPs do?
ODPs work alongside doctors, nurses, healthcare assistants and all other members of the theatre team, to provide safe and effective care, in all areas of the operating department and in many other places. Anaesthetic teams consist of both anaesthetic nurses and ODPs.

Nationally, many ODPs in the UK now work in many different areas outside of operating theatres. There are ODPs working in research, medical physics departments, transfusion departments, fracture clinics, clinical informatics, endoscopy, resuscitation and pre-hospital medicine, intensive care units and in senior roles such as directors of services. They are also well placed to do further training to become advanced clinical practitioners or physician's assistants in anaesthetics.

How did life change for ODPs during the COVID-19 pandemic?
During the COVID-19 pandemic, the ODP skill set has been valuable to meeting many of the specific patient care needs created by the pandemic.
The team at Whittington Health helped to develop new, COVID-19 safe ways of airway management to meet the high demand for this specifically during peak times. This included intubation, insertion of invasive monitoring lines, provision and maintenance of anaesthetic equipment and machines, assisting in a bedside helper role and with prone positioning, all within the intensive care setting (ICU) setting.

Throughout peaks, the team also continued to provide round the clock cover for emergency calls, all obstetric services, emergency and trauma surgical procedures for adult and paediatric patients. There are few other professions whose work encompasses all these patient groups as a normal part of their services.

Outside of surge times, ODPs and their skills are more in demand than ever, to help safely meet the requirements of increased surgical activity across the NHS.
The photo was taken pre COVID-19.