A visit from HRH The Duchess of Cornwall to mark International Nurses' Day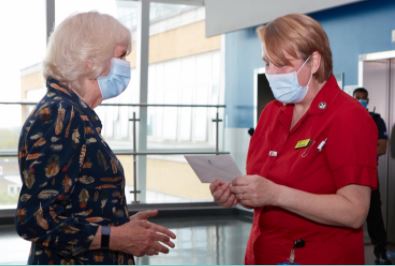 12 May 2021
We welcomed Her Royal Highness The Duchess of Cornwall who met with nurses and young patients as part of International Nurses' Day celebrations.
Full story
Our celebrations for International Nurses' Day were extra special this year, following the visit of HRH The Duchess of Cornwall. The meeting, with nurses from several different specialities, involved an informal chat and HRH thanking staff for all their work, especially during the last year.
Later in the visit HRH, who is the Patron of Roald Dahl's Marvellous Children's Charity, met patients who are being treated for blood conditions within our hospital. Her Royal Highness met with Roald Dahl Nurse Edith Aimiuwu and the children and young people she is treating. Edith, who has been a Roald Dahl Specialist Nurse at the Trust since 2006, was proud to introduce Her Royal Highness to some of the children under her care.
Edith said: "It was a privilege to be thanked by Her Royal Highness particularly after such a challenging year. Complex blood conditions like sickle cell anaemia have a profound effect on the day to day lives of these children and young people. We have worked hard to ensure they could continue to get the care they need, safely but they have had an incredibly tough time during the pandemic and this visit was really special for them."
80 Roald Dahl Specialist Nurses have been established in partnership with the NHS. They are a vital lifeline to the children and their families, supporting them clinically and emotionally.
Roald Dahl's Marvellous Children's Charity are thanking Roald Dahl Nurses across the UK, on International Nurses' Day. The Duchess of Cornwall took the time to deliver a hand-written letter to our nurses, thanking them for the support they had provided to their patients throughout the pandemic and beyond.
After visiting the ward Her Royal Highness visited the sensory garden outside of the hospital. Here she helped to plant new Nye Bevan and Roald Dahl roses alongside staff. The garden, which recently hosted the Trust's national day of reflection event is where Baroness Neuberger, Chair of Whittington Health NHS Trust, presented HRH with a copy of Slater King's Whittington Hospital – In the time of Covid, a photobook that tells the story of Whittington Health staff working during the first wave of the pandemic.
Baroness Neuberger said, "I'm honoured that we are able to mark this year's International Nurses' Day with a visit from HRH The Duchess of Cornwall who has been able to meet just some of the fantastic nursing staff that we have here in the hospital and out in the community."
The Duchess of Cornwall was hosted by our Chief Nurse and Executive Director of Allied Health Professionals, Michelle Johnson MBE, who is also a Trustee of Roald Dahl's Marvellous Children's Charity.
Michelle said: "We are so delighted that Her Royal Highness was able to personally thank our wonderful nurses at the Whittington Health NHS Trust and to meet some of our children and their families. Our Roald Dahl Specialist Nurses are a lifeline to these families supporting them clinically and emotionally. It's wonderful that our Royal Patron can be here today to support Roald Dahl's Marvellous Children's Charity to launch our 'Marvellous Thank You' campaign."