A new Draft Estate Strategy for Whittington Health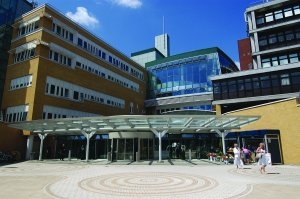 30 Jan 2020
Following feedback from staff and local people last year, we have updated our Estate Strategy with new principles and priorities
Full story
That work has now resulted in a
Draft Estates Strategy for 2020
, which updates the one produced in 2016. This is document will be considered by our board at their meeting on Wednesday (05/02/2020) . It is based on what we have heard from those who provide care and those who receive it, takes account of the clinical strategy we updated last year and sets out our plans at a high level. Following discussion and feedback from our board next week, we will be looking to develop more detailed proposals on the highest priority areas and would like to engage with you further on this.
As you know, we have already started to make progress on some elements of our estate. The
unused Waterlow Building has been demolished and a new education centre will appear on the site later this year
. Our current education centre will then make way for a new mental health hospital run by Camden & Islington NHS Foundation Trust. Our new obstetric theatre is up and running and we have almost finished refurbishing our postnatal ward. However, we know that much of our estate requires more significant work – some of the buildings are old and increasingly difficult and expensive to maintain and our community services are not usually located near to other services which our patients would find useful.
The strategy sets out our high-level proposals for change, in three phases. These are:
Phase 1
We want to build a brand new, state-of-the-art maternity and neonatal unit at the hospital. The existing height of our hospital means that we can put more space on a smaller footprint, freeing up space while potentially expanding our capacity.
Concentrating adult community services in larger, better-located buildings will enable us to realise the opportunity for integrated care which work side-by-side with other local and voluntary services which our patients may need. It also allows us to improve accessibility and reduce the significant financial burden of maintaining a large number of sites.
Innovative, agile and fit-for-purpose education and office facilities to empower you to deliver exemplary healthcare services.
Phase 2
Bringing children's services into better, more accessible and fit-for-purpose hubs which reflect the two main boroughs we serve, Haringey and Islington.
Providing both primary and urgent care from our Archway site, transforming the environments in our ED and outpatient departments in particular.
Improving access to low-cost, high quality staff accommodation, either on-site or elsewhere, and possibly linked to…
Making the most of the value of our estate by working with the Greater London Authority and councils to support the priorities of our public sector partners, such as care home beds or affordable housing.
Phase 3
Considering options for improving flexibility and better staffing models in our theatres and on our wards and improving how we use our space.
While it is too early for specific plans, we do know that what we want to do is going to require significant capital investment and it is vital that we explore options which can help turn these plans into reality. However, we are committed to working with public sector partners (including partners across North Central London, councils and the Greater London Assembly) and supporting their priorities in the interests of our staff and the communities which we serve, for example, exploring opportunities for step-down beds or key worker housing.
Following feedback from our board, we plan to hold engagement sessions with staff, stakeholders and local people as we develop more detailed plans. We will give you some more information on these sessions as soon as possible.