Karaoke Klub in the social!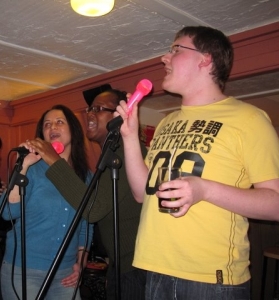 Charity sing-along - bi-monthly event at the social club


On Friday 26 February the social club turned into one of London's premier karaoke venues for the evening. Using a portable karaoke device from 'Lucky Voice', a night of singing was put on to raise funds for the care of older people campaign. Staff belted out their favourite tunes from Abba's 'Dancing Queen' and Tom Jones's 'Delilah' to Beyonce's 'Single Ladies', and Kings Of Leon's 'Sex Is On Fire'.

A good chunk of money was raised for the Care of Older People appeal, with staff kindly donating £2 to sing. A little went a long way for a whole night of singing - and it was significantly less than most karaoke bars in the city.

People filled the social club to the rafters for discounted drinks and a great time. The event will hopefully occur on a bi-monthly basis.
Page last updated: 10 Mar 2010