Acute Medical and Surgical Wards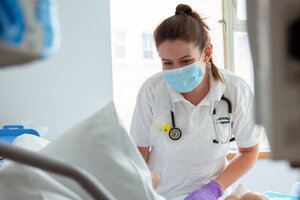 The Acute Therapies Team consist of Occupational Therapy (OT) and Physiotherapy (PT) teams working across a range of acute hospital specialities. The teams at The Whittington Hospital provide short-term rehabilitation to acute and chronically ill adults as well as providing quality post-operative rehabilitation services following surgical procedures.

The teams cover Nightingale, Mercers, Montuschi, Victoria and Critical Care (ITU) wards and will accept referrals for any patients who require assessment and treatment to optimise their function, mobility or condition. This is to ensure patients receive appropriate treatment to aid in their physical recovery and in a safe and effective discharge home. Acute provision of NIV is provided as part of the 24/7 on call physiotherapy service.
The Whittington Hospital provides a respiratory Physiotherapy outpatient service. This service provides airway clearance advice and treatment for chronic lung disease and management of breathing pattern disorders. The focus of this treatment is patient centred and focused, with the aim of supporting patients to support their own management. Appointments are currently virtual via telephone or video.
Referrals are made via your Respiratory Consultant via Anglia Ice: Physiotherapy/respiratory.