START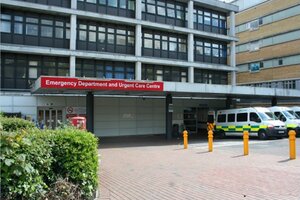 The START Team

Specialised Therapy Assessment and Rapid Treatment
The START Team works within the Emergency Department, Ambulatory Care and Medical Assessment Units of the Whittington Hospital. We provide a 7-day service between 8:30 and 20:30. Our main role is to provide timely, person-focussed therapy assessment and intervention for patients who are frail and/or have complex mobility or care needs.
During core hours the team is made up of 2 Physiotherapists, 5 Occupational Therapists, a Therapy Technician, and a Rehabilitation Assistant. The out of core hours service is supported by therapists from across the inpatient therapists.
Early therapy intervention starting in the Emergency Department can facilitate rapid decision-making, thereby avoiding an unnecessary hospital admission or a lengthy stay in hospital. We work closely with the hospital multidisciplinary team and community services, to ensure people receive appropriate interventions and support which leads to a safe discharge and minimising the risk of reattendance.