Customer Service Excellence 2010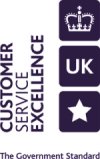 Customer Service Excellence for Clinical & Academic Department of Cardiovascular Medicine at the Whittington Hospital
June 2010

What is a Customer Service Excellence?

Customer Service Excellence is a standard of customer service and quality improvement designed to help organisations deliver higher quality services to their users. It is unique amongst quality schemes because it concentrates on results – the service, the customer/user actually receives. It meets the criteria of the Customer Service Excellence is in accordance with the requirements of the Cabinet Office's Customer Service Excellence scheme.

What does the Clinical & Academic Department of Cardiovascular Medicine comprise?

Our services cover a wide range of activities. They embrace both clinical services to patients as well as teaching services to undergraduate and postgraduate medical students,
nursing students and pharmacy students. It also covers our research activities. Within our 2009 application for the Customer Service Excellence we included the following services:

• Montuschi ward – led by Leo Gonzales
• Our out-patient hospital anticoagulation services – led by Sister Choi
• Our community anticoagulation services– led by Bridget Coleman, Ashik Shah and Ian Man
• Our cardiac rehabilitation services – led by Sharon Robinson
• Our heart failure services – led by Dr Suzanna Hardman and Philippa Vassell Wright
• Our cardiac investigation services – led by Geoff Young
• Our chest pain services – led by Dr David Brull and Michelle Smith
• Our education services – led by Dr David Brull
• Our outpatient services – led by Lyn Garden
• Our administrative and management services – led by Dr Richard Jennings and Carol Gillan
• Our research services – led by Dr Suzanna Hardman and Professor David Patterson

This bold aspiration to encompass the full extent of our services for our Customer Service Excellence has been a continuing piece of work covering several years from our First Charter Mark award in 2003.

Who are our customers?

Our services cover a wide range of activities. Our "customers" fall within the following categories:

– clinical services to patients – inpatient; outpatient; community based
– teaching and educational services to undergraduate and postgraduate medical students,
nursing students, pharmacy students and school placements/work experience.
– services to our local GPs and other healthcare professionals
– services to our commissioners
– research and other academic activities
– services to each other!
– services to our own staff

What does the assessment consist of?

The assessment is undertaken in two stages. Firstly, there is a document review on an application pack prepared by us. This enables our assessor to gain an understanding of how the organisation has met the requirement of the Customer Service Excellence standard. Following this document review, a report is prepared that outlines the areas that became the focus of an informal discussion. The final stage is an on-site assessment. The aim of this part is for the assessor to obtain objective evidence that we met the requirements of the Customer Service Excellence. Evidence is obtained from the review of documents, interviews with staff, customers, partner organisations and senior management.

The elements we had to address were:

1. Customer insight
• Customer identification
• Engagement and Consultation
• Customer Satisfaction

2. The Culture of the Organisation
• Leadership, Policy and Culture
• Staff professionalism and Attitude

3. Information and Access
• Range of information
• Quality of information
• Access
• Co-operative working with other providers, partners and communities

4. Delivery
• Achieved delivery and outcomes
• Deal effectively with problems

5. Timeliness and Quality of Service
• Standards of Timeliness and quality
• Timely outcomes
• Achieved timely delivery

What have we done to earn the Customer Service Excellence?

Each component of our cardiovascular service has defined its own set of service and customer care standards, and the method of monitoring their performance against them. Some of our standards within our services are generic to all areas. All these standard have been evaluated by a patient panel and modified accordingly. The on-going cycle of assessment and improvement commenced in 2003. We designed this to minimise the paperwork required. Initially several "away days" for those involved in the service have helped staff to develop a wider view of the patient centred care. It has also helped us define who our "customers" are – these include not only patients but also students, other members of staff in the hospital, some of our own department needing a service from another part of our department, our local GP's, the UCL Medical School and Middlesex University.

The Customer Service Excellence and our philosophy

The philosophy of our department is three-fold:
The philosophy of our department is three-fold: 1. To identify and encourage good clinical practice and to build on it in order to deliver a service which is perceived by patients and staff to be of the best possible quality. To achieve this goal, the service, education and research components are considered together and planned in harmony. 2. To plan or delivery of service with the patient, our user, at the centre of our thinking; this will entail that the appropriate element of the service will be offered by the healthcare professional with the necessary competency and knowledge, wherever they are situated. We perceive that the services we provide are an intrinsic part of our community, not distinct from it. 3. To support the services with a "state of the art" clinical information system.

We continually strive to improve our services

The essence of the Customer Service Excellence is that we continually strive to improve our service; it will never be perfect and we will need to respond to problems as they occur, document our responses and plan a resolution. Importantly, we must then show that we have fed back to our patients and users our responses to the problems that have presented.

The Whittington Hospital Corporate Approach to Customer Service Excellence

We are proud to have played a part in helping the Trust to adopt an explicitly customer focussed approach in the development of its services at a corporate level. We are grateful for the excellent level of synergy in our mutually responsive strategies.


Page last updated: 13 May 2010