Haringey Coordination and Prevention Service (HCAPS) (previously Haringey Integrated Locality Team)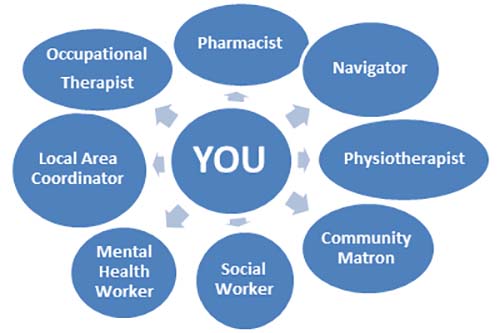 Main Address
8 Stuart Crescent Health Care Centre
Wood Green
London
N22 5NJ
020 3074 2958
Haringey Coordination and Prevention Service:
Providing personalised, creative and quality care coordination, for adults living with complex health and  social care needs
The Haringey Coordination and Prevention Service (HCAPS) is a multi-disciplinary team offering preventative interventions through a seamless service across organisations for the benefit of the client. We are the Haringey Hub for Integrated Working.
We will work with professionals already involved in a client's care and offer wrap- around multi-disciplinary support.
The locality team can coordinate care needs and make sure clients are linked in with the most appropriate services to make a positive difference to their health and wellbeing.
The team may develop a health crisis plan to ensure that clients and their support network (family & friends, other services) know when and how to get the help they need.
The
Haringey Coordination and Prevention Service (HCAPS) 
consists of a multi-disciplinary team from key health and social care organisations (Whittington Health, Haringey Social Services and Barnet, Enfield and Haringey Mental Health Trust). You may be seen by one or more health professionals.
The role of the team is to support you to maintain health, well-being, independence and self-management of your health conditions.

Opening Hours
Monday - Friday
9am - 5pm
Referral
You can refer people with multiple long term conditions impacting on daily life, and require a multi-disciplinary approach to support to maintain health, well-being and independence.


Self- Referral
You can contact the team to make a self- referral over the phone. If you are new to the The Haringey Coordination and Prevention Service (HCAPS), we will ask you GP to send us some information on your long term health conditions.
If you have worked with the team previously we will review your situation and offer advice on the next steps.
GP Referral
GPs can refer into the service using a variety of ways to make the process easier for each individual GPs preference. From GPs we accept CRAT form referral (ticking The
Haringey Coordination and Prevention Service (HCAPS)
(previously known as Haringey Integrated Locality Team) / Under ICTT), a completed The
Haringey Coordination and Prevention Service (HCAPS) r
eferral document or an email with a brief statement of need along with an EMIS summary.
Professional or Supporting Role Referral
Health & Social Care Professionals, Volunteers and other workers can refer into the team using the Community Adults Referral Form (CRAT) or the Haringey Integrated Referral Form Document.
Proactive Referral
You may be contacted by us by a letter through the post and a follow up phone call. Your details will have been gathered from data relating to Emergency department and London Ambulance contact in the best interest in of improving your care.

We will offer to review your health and social care situation and may offer you support in working with you to improve your health and wellbeing. You can accept or decline this offer.
Integrated working
If you would like the team to work with you in a development capacity to share our learning about integrated learning, improve links with your Haringey Service or any other development opportunities please do not hesitate to contact the team managers
Toby Kent
or
Laura Marmion
to discuss further or call on 0203 0742958.
Choosing the Right Treatment
We look forward to working with our new clients and new colleagues before. We would ask everyone to review the following information on choosing the right treatment to ensure you and your clients get the best care at the correct time by choosing the NHS service that can best treat your symptoms.
To access the evening & weekend GP appointments
call (0330 053 9499) during the following times:
6:30pm-8:30pm Monday to Friday
8:00am-8:00pm – Saturday and Sunday

Appointments
After receiving and screening your referral a member of the The
Haringey Coordination and Prevention Service (HCAPS) 
will contact you or your family to discuss the options of assessment and possible interventions.
Telephone Assessments
 The team may be able to offer you telephone assessment and telephone support depending on your situation.
Face to Face Appointments

Out Patient Appointment

You may be asked to visit the team in a community setting such as a health centre if you are able to get out of your home and engage with treatment.

Home Visit

You may be offered a home visit by one or more members of the team to visits you in your home to complete the assessment and any interventions.
We are professionals and will not judge anyone's home environment we want to work with you to improve your independence and wellbeing, support your carers and reduce the likelihood for you to have to go into hospital.
If you wish to cancel or change the time of your appointment please contact the team on 0203 074 2958.