Cardiac Rehabilitation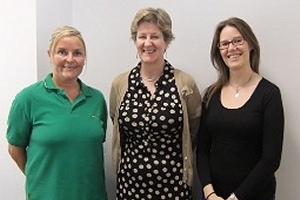 Main Address
Whittington Hospital
Magdala Avenue
London
N19 5NF
020 7288 5649 or 020 7288 5943
As patients recover from cardiovascular problems, be that a heart attack, cardiac surgery, angioplasty or a new presentation with heart failure we offer one of two rehabilitation programmes designed to help patients return to normal and improved levels of activity, as well as encouraging lifestyle changes which improve long term well being. The rehabilitation also offers a safe forum in which uncertainties can be discussed and questions answered. Rehabilitation begins in hospital but we have designed the later phases of our programmes to be based in the communities in which the patients live. Hence phase three of each programme are both based off the main hospital site:

Programme one
A fast track programme of eight sessions in a gym setting is run at the Sobell Leisure Centre, designed for patients with less complex problems who are often keen to return to work. These classes are held on Tuesdays from 10am to 11:30am and Fridays from 09:30am to 11:30am. It is a rolling programme (i.e. patients join and leave the programme at times which suit the individual's needs) and is often offered to those people who have undergone angioplasty or uncomplicated valve surgery.

Programme two
The other phase three rehabilitation programme is offered to all other patients who merit cardiovascular rehabilitation. This includes patients with heart failure. The classes are held at Hargrave Hall Community Centre, on Tuesdays from 1:30pm to 4:00pm and Thursdays from 10am to 12:30pm. For this programme a small group of about eight-ten patients are invited to complete a four-week programme together. The mutual support patients receive from each other as they undertake the programme is recognised as one of the strengths of the programme. See more details about the sessions for each programme under 'Details about the course' further down.

PLEASE NOTE
Patients from both programmes are carefully assessed prior to commencing the programme and if neither of the programmes are suitable home exercise can be advised. Also, on completion of this phase of rehabilitation all patients are referred to local programmes of exercise, who offer continued access to gym or exercise classes, which we hope will be life-long, and which may encourage other family members to exercise. Audit shows many patients are continuing to exercise on a regular basis one year later.
Monday to Friday
9am to 5pm
Page last updated: 07 Jan 2016