Our New Strategy to 2024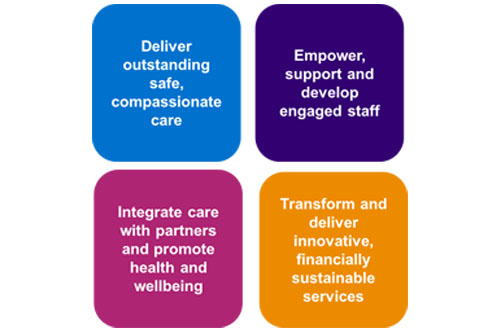 10 Apr 2019
Renewing our strategy and setting our direction for the next 5 years

Full story
We are delighted to launch our refreshed strategy which sets out our vision and ambition for the next five years.
Our new strategy is an evolution of our previous strategy. Our vision and values will not change over the next 5 years.
Our central purpose and our values will not change.
Our vision motivates us: Helping local people live longer healthier lives
Our values guide how we should act: Innovation, Compassion, Accountability, Respect, and Excellence
However, what we do over that period will need to reflect the ways in which health and care services are evolving. That is why we are setting out 4 new objectives (a reduction from six goals in our previous strategy) for our organisation to meet by 2024. These are:

Deliver outstanding safe, compassionate care.
Empower, support and develop staff.
Integrate care with partners and promote health and wellbeing.
Transform and deliver innovative, financially sustainable services.
This is an exciting opportunity for us to go from Good to Great, creating a culture of caring for all of our colleagues and to deliver even safer, higher quality, compassionate and innovative care to enable local people to live longer healthier lives.