Flat Feet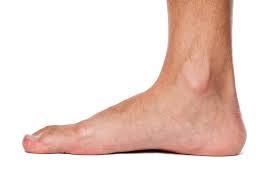 Disclaimer: The following page is designed to provide information and advice for GPs when they are considering referring a child to the paediatric department at the Whittington.

All babies and children have flat feet. When the child starts to walk s/he stands with feet far apart and ankles rolled inwards. This is when parents first notice the feet are flat. As muscle control develops, the child stands with feet closer together and straight ankles. The arches can then be seen. Even if a child's feet appear completely flat, arches will appear when s/he stands on tip toe if the feet are normal. Parents should be advised to buy well fitting shoes with ankle support.
Who this advice applies to
Children who have been standing and walking for some time who still have the appearance of flat feet and are developmentally normal.
Who this advice does not apply to
Infants and children who have abnormal development or joint examination.
Referral is advised when
Children have an abnormal joint examination Children are suspected to have developmental delay
Referral is not required when
A child has an otherwise normal examination without pain (these children should be reassured in primary care)
If a child complains of pain but has an otherwise normal examination (these children they should be referred to a podiatrist for specialist footwear or supports.)
Investigations that can be requested prior to referral *
None
Additional Guidance & Advice
Email advice on referrals
Please note this email service is for non-urgent queries only (for urgent queries please bleep the on-call paediatric SpR on bleep 3111)
To make a referral
General advice on referring to the paediatric service is available here [link to webpage]

Specific advice for this condition – None
Choose & Book Availability

Choose & Book appointments can be made for these referrals
Please refer to any general paediatric outpatient clinic
* Notes re. Investigations
Where investigations are requested from Whittington Health, these results will be automatically available at the time of consultation.
If investigations are requested from another provider, please ensure all results are forwarded to the paediatric department, in time for the consultation