Nocturnal Enuresis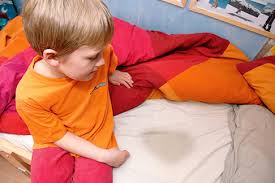 Disclaimer: The following page is designed to provide information and advice for GPs when they are considering referring a child to the paediatric department at the Whittington.

This guidance is based on the NICE guideline on enuresis (link below).
Important points to consider when taking a history are; constipation, faecal smearing, day time symptoms, UTI symptoms, pattern of bedwetting, stressful life factors, co-morbidities, developmental delay, fluid intake, sleeping arrangements
Nocturnal enuresis is classed as primary when children have never been dry at night (from infancy onwards) and as secondary when the child was previously dry at night (without assistance) for a 6 month period.
Who this advice applies to
Children aged 5 years -16 years with involuntary wetting (enuresis) during sleep
Who this advice does not apply to
Children with diabetes mellitus (if you suspect this perform blood sugar and urinalysis and refer immediately to the on-call paediatric SpR on bleep 3111)
Children who are under five and are not fully toilet trained
Children who have significant developmental delay and do not have control over their continence
Children with daytime (diurnal) urinary incontinence
Referral is advised when
Children have secondary enuresis
Children have a possible neurological problem
Children have co-existing daytime incontinence in any child over 5
Children have co-existing soiling (encoparesis)
You suspect emotional and behavioural problems
You suspect maltreatment e.g. child is reported to 'deliberately' bed wet or they are being punished for bed wetting
Children area having recurrent urinary tract infections (see advice on UTIs)
Referral is not required when
Sensible fluid intake and toileting measures, constipation and urinary tract infections have not been addressed (These should be addressed in primary care first)
Children have primary nocturnal enuresis (These should be referred to your local community children's incontinence service)
Investigations that can be requested prior to referral *

Urine analysis & culture - if the bedwetting started in the last few days or weeks, there are daytime symptoms, there are any signs of ill health, there is a history, symptoms or signs suggestive of urinary tract infection.
Renal tract Ultrasound – if there are daytime symptoms or there is a history, symptoms or signs suggestive of urinary tract infection.
Additional Guidance & Advice
Email advice on referrals
Please note this email service is for non-urgent queries only (for urgent queries please bleep the on-call paediatric SpR on bleep 3111)
To make a referral

General advice on referring to the paediatric service is available here [link to webpage]
Specific advice for this condition – None
Choose & Book Availability

Choose & Book appointments can be made for these referrals
Please refer to any general paediatric outpatient clinic
* Notes re. Investigations
Where investigations are requested from Whittington Health, these results will be automatically available at the time of consultation.
If investigations are requested from another provider, please ensure all results are forwarded to the paediatric department, in time for the consultation