Voluntary Services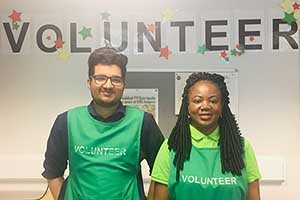 Our team of volunteers provide a vital service to patients, visitors and colleagues at The Whittington Hospital. Volunteers are involved in hospital life in a range of ways including:
Welcoming visitors and giving directions
Keeping patients company on the wards
Assisting patients who have difficulties eating and drinking
Running our merchandise stall
Helping at fundraising events
Delivering refreshments to inpatients and outpatients
Carrying out administrative tasks
Helping patients to share their views on our services
Macmillan volunteers
Dementia volunteers

All of our volunteers are unique, giving up their time for free to share their skills. Volunteering can also be an opportunity to develop new skills that could lead to gaining paid work at Whittington Health or with other organisations. We have over 200 volunteers who reflect our local community and come from a variety of social, religious and cultural backgrounds. There is no upper age limit to becoming a volunteer, but applications canít be accepted from people under the age of 16. We ask that applicants can commit to volunteering with us for a minimum of one year, to really benefit from the experience.
Contact

Voluntary Services
Level 0 (Main Entrance)
Whittington Hospital
Magdala Avenue
London N19 5NF
How to apply
There are three ways to apply to become a volunteer with Whittington Health:
Complete an online enquiry form
Visit the volunteers office at The Whittington Hospital to collect an enquiry form
Phone the volunteers office and request an enquiry form by post
Once you have submitted your enquiry form, we will review this and contact you to arrange for a telephone interview. Pending on the success of this telephone interview, we will invite you in for ID checks to begin the DBS application and Occupational Health checks.. Due to the high volume of interest in volunteering at Whittington Health Trust, not everyone who applies will be successful.

The volunteer office is open to enquiries from 9.30am to 4.30pm Monday to Friday. All ID checks are scheduled for 10am-11am, or 2pm to 3pm Monday through Friday. If you are unable to attend at these times, please let us know when we send you an invitation to attend. During the first week of each month, the volunteer team focus on processing on-going and new volunteer applications. As such, it is recommended that new applicants send through enquiry forms after the first week of each month.
Please note that work experience placements are not placed through the volunteering service, and that Whittington Health volunteers are not permitted to support with any clinical tasks or shadowing.