Hospital redevelopment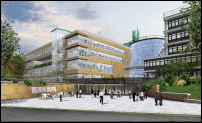 The Whittington Hospital is changing. In Spring 2002, work started on the construction of a new clinical block and main entrance.

A design has now been chosen and the Whittington has appointed Jarvis as its preferred partner to develop the project further.
Commencement of the construction works has been the culmination of a long process of negotiation and design development, kickstarted by the Trust's Outline Business Case for the project which was approved in 1999. Please see our project documents section for more details.

Address
Redevelopment Project Office
The Whittington Hospital NHS Trust
Level 2, Highgate Wing
Highgate Hill
London
N19 5NF

020-7288-5653

020-7288-5020