How your support makes a real difference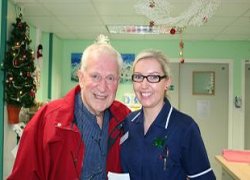 Whittington Hospital Charitable Funds raises money to help enhance education, equipment and facilities across Whittington Health NHS for the benefit of all our patients, visitors, colleagues and the wider community.
As a registered charity (no. 1056452), we manage and distribute donations to reflect our clinical strategy and mission of helping local people live longer and healthier lives by providing safe, personal, coordinated care for the community we serve.
We are very grateful for your continued support that has helped a diverse range of projects such as;
Care of Older People Appeal (2011-2012)
Thanks to your support, over £150,000 was raised for the 'Care of Older People Appeal' to update and enhance the Day Hospital for our older patients. You have helped improve rehabilitation opportunities for elderly patients (upwards of 75 years old) and to upgrade the ward facilities. The unit cares for older people living with conditions such as; dementia including Alzheimer's disease; stroke; injury from falls; osteoporosis; diabetes; cardiovascular disease; bladder and bowel conditions.
With an increasing aged population, the three elderly care wards (Meyrick, Cavell and Cloudesley wards) that are based in the Victorian section of the building, have to cope with an increasing number of frail older people each year. Some 65% of patients on our elderly care wards have some level of dementia, from early onset to full-blown dementia so your support helped fund enhanced equipment such as easy to read clocks, adapted signage indicating room functions and lunch club facilities.
Building for Babies Appeal (2006-2008)
Building for Babies reached its target of £600,000 in Autumn 2008. Your support enabled the expansion and refurbishment of the Neonatal Intensive Care Unit, creating four new family rooms for anxious parents to stay overnight in and purchase enhanced equipment.
Thalassemia Unit appeal (1999-2003)
Patients who use the Thalassemia Unit spend upwards of ten hours every three weeks receiving blood transfusions so the appeal was established to make the unit more comfortable and spacious. £250,000 was raised and the new unit opened in 2006 to the delight of patients and staff.
Cancer Information (1997-1999)
In order to provide the best possible information about cancer to patients and healthcare professionals, The Whittington Hospital set up a walk-in centre offering counselling, information on complementary therapies, support agencies and services, in addition to leaflets and audio-visual information about all issues concerning cancer. This appeal raised £100,000 and a Macmillan nurse oversees the project provided to patients.
MRI Scanner (1994-1997)
One of the greatest medical breakthroughs of the 1980's was the MRI scanner. However, still by the mid-90's, they were still very expensive. The MRI scanner is the best way of diagnosing many illnesses such as cancer, neurological diseases and spine and bone injuries. Without an MRI scanner at The Whittington, it meant that our patients had faced long waits and inconvenient journeys to have an MRI scan elsewhere. We raised £250,000 to install an MRI scanner.
We are very grateful to all the individuals, families, businesses and Trusts & Foundations that continue to support all our fundraising activities.
If you are interested in supporting us or for more information please contact 020 7288 5641 or
fundraising.whitthealth@nhs.net
Thank you for your support.