Inpatient services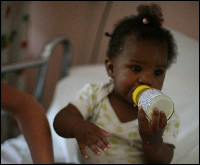 Ifor ward
Ifor Ward is the general paediatric ward at The Whittington Hospital and has 23 beds. We look after approximately 2,000 children per year who have medical and surgical conditions.
There is a playroom on the ward and a small outside play area which is open when the weather permits. A team of qualified hospital play specialists work with the children and part of their role is preparing them for medical and surgical procedures. Facilities for children of all ages include TVs, DVDs and books.
We have a school on the ward that caters for school aged children and is open in term time from 9.30am-3.15pm. It's run by experienced staff and led by Rosemarie Hilditch, who has over 30 years teaching experience. We teach primary, secondary and special needs children. The school was inspected in October 2011 and received an outstanding OFSTED report.
The ward is situated on the fourth floor of The Whittington Hospital, next to the paediatric outpatients clinic – 4D. When coming into the hospital via the main entrance in Magdala Avenue use the main lifts to take you up to level four and follow the signs for Ifor ward.
Contact number: 020 7288 5442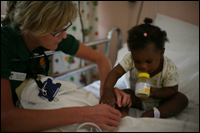 Paediatric high dependency unit
One of our core aims is to provide children and their families with the safest and best care, as close to home as possible. Where possible we will try and do this in their home (
hospital at home
) or with a mixed approach (paediatric ambulatory care). Some children will however need admitting to our paediatric inpatients ward (Ifor ward). For the vast majority of children a normal paediatric admission is all that is required. However some children will require a greater degree of monitoring and treatment (medical and surgical), thus requiring admission to a high dependency unit (HDU).
Our paediatric high dependency unit was opened in June 2004 and has two beds. This allows us to take care of a wider range of patients and ensure that more families can remain within easy access of their home and local support networks.
In some cases children may present extremely sick or continue to deteriorate and will require admission to paediatric intensive care. In these situations our team will stabilise the child and then liaise with the
children's acute transport
team who will identify a paediatric intensive care bed and transfer the patient. We participate in regular joint training sessions with the children's acute transport team to ensure that both teams work efficiently and in a synchronised way for these rare events.
We comply with national standards set out for HDUs and provide regular training and simulation for our staff to ensure that we deliver the highest standard of care for children. The unit has approximately 100 admissions every year and accounts for approximately 250 bed days. The current HDU paediatric leads are Dr John Moreiras and senior nurse Shadi Saramad.
Paediatric ambulatory care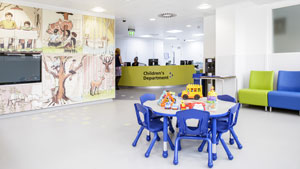 As of April 2014 paediatric ambulatory care is delivered in two locations.
Roses day care is situated between the inpatient ward and outpatient clinics on level four and has six beds and two cubicles. This is for children who require planned day case investigations and treatments, such as blood transfusions, chemotherapy, skin prick testing and imaging procedures.
Our new paediatric ambulatory care centre is adjacent to the adult ambulatory care centre, located on level two close to the paediatric emergency department. In the new centre children with acute illnesses can be closely monitored and managed by experienced paediatric staff with a view to discharge on the same day, avoiding hospital admission wherever possible. It is also the new home for the well established "10-12" (urgent referral) clinic.
Children with oncology (blue) emergency cards who are known to us can be seen directly at Roses day care without needing a children's emergency department or GP referral. Children with haematology (red) or the standard (yellow) emergency cards who are known to us with other chronic illnesses are seen in the children's emergency department or the children's ambulatory care centre by the paediatric team. We see approximately 4,000 children per year in this service.
Neonatal intensive care unit
The neonatal intensive care unit (NICU) located on level two at The Whittington Hospital cares for inborn babies, in-utero and ex-utero transfers. It is part of the North East London Perinatal Network, cooperating most closely with local neonatal units at University College Hospital and The Royal Free Hospital.
The NICU cares for premature infants and unwell full term newborns. It is consultant led and staffed by dietitians, physiotherapists and occupational therapists, with pharmacist and counselling support.
There is joint perinatal working with obstetricians and midwives and shared research projects both within the network and nationally. Deliveries are increasing, currently 4000 annually with approximately 400 admissions to the NICU. The neonatal team reviews and leads the examination of all well newborn infants following birth on the postnatal wards together with midwives and breast feeding advisors.
The hospital at home (H@H
) team is made up of skilled paediatric nurses working in partnership with child healthcare professionals in primary, community and secondary care. This service will provide assessment and care interventions to support the child and empower the family during an acute illness in their home environment.
Page last updated: 17 Dec 2015