Outpatient services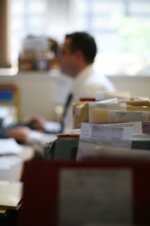 Our outpatient department sees approximately 13,600 children per year and provides facilities for the comprehensive management of children not requiring hospital admission.

We provide regular general paediatric new and follow up clinics and are currently seeing all children within five weeks of referral. The majority of our new general paediatric referrals are now taken through the 'Choose and Book' system.

In addition, we have a consultant-led urgent referral clinic, the "10-12 clinic" (running between 1000-1200hrs Monday to Friday), in which we currently see about 3000 children a year. This service enables GPs to refer children with an acute illness for a consultant opinion on an urgent basis. More information on the 10-12 clinic can be found as part of our website advice service. (Please click on the links to the left).

We provide specialist clinics run by consultants within the hospital and also specialist clinics run jointly with a consultant paediatrician from the Whittington and a specialist from a tertiary centre such as Great Ormond Street Hospital. Referrals for specialist clinics are not available through the 'Choose and Book' system.

The paediatric department also offers two services to support GPs when considering referral to the paediatric outpatient service.

(1) Information and advice on a number of common paediatric conditions is available by following the links to the left. The advice pages provide a summary of conditions which are frequently referred to the paediatric outpatient service and advice on when and how to refer to the paediatric outpatient service.

(2) There is also an email advice service available for conditions which do not yet have an advice page or for more patient specific queries. Emails will be answered within 3 working days by a consultant paediatrician. Full details on using the email service are provided by following the link to the left. Please note this service is for GPs only and is not available to parents or carers of children or young people.

Referrals to the paediatric outpatient service can be:

Send by post to Clinic 4D, Whittington Hospital, Magdala Avenue, N19 5NF
Faxed to 020 7288 5629 (for the attention of Clinic 4D)
Made by the 'Choose and Book' system (where possible)

Please click on the links on the right hand side for more details.

Specialist clinics run jointly by Whittington consultants and regional sub-specialist.