Visitor Testing
THE INFORMATION ON THIS PAGE IS NOT CURRENT AND MAY NOT BE ACCURATE. PLEASE RETURN TO OUR HOMEPAGE.
The information on this page will be updated shortly.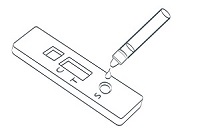 Unfortunately, at the moment we have had to suspend the majority of hospital visiting. We appreciate how difficult this is and hope to resume visiting as soon as possible. The information on this page is only applicable to limited numbers of specific visitors - for example parent's of babies in our Neonatal Intensive Care unit. Unless you have been specifically advised to visit this page you should click here to find general COVID-19 information.
Visitor Point of Care Rapid COVID-19 Testing
---
What's involved?
Here is a quick guide to using the rapid COVID-19 Lateral Flow Device (LFD) tests. It is really important that you follow these steps in the correct order.
You should test yourself when requested by our staff.
For full guidance on how to use the LFD, please read the
guide to using a Lateral Flow Device (LFD)

. When you receive your test kits, you should disregard the instruction leaflet contained in the box (which is not written for a self-testing regime) and read this guide instead.
Remember, store the test kit at room temperature – not in direct sunlight and not in a fridge or freezer.
Keep the test kit away from children and animals.
Wash or sanitise your hands thoroughly
Prepare your test area and unpack your equipment, take a note of the device number on your test device packaging.
Take your swab sample (nasal swab only)
Process your sample and wait 30 minutes
Check your result and act accordingly (see below)
Carefully dispose of the test device and equipment in your household rubbish
Results Information:
If your test result is positive:
If you get a positive test result, you will need to self isolate, and arrange a follow up PCR test to confirm your result and follow the advice give to you by NHS Test and Trace.
Record your result on this form
. Inform a member of staff and please do not come to the hospital as a visitor until you have received a negative PCR test (NHS COVID test) or until you have completed the required period of self-isolation.
If your test result is negative:
Make a note of the time and date which you took the test and the lot code found on the test device packet
and record it on this form
.

It is important to remember that even if you test negative you must still comply with all current COVID-19 guidelines: wash or sanitise your hands frequently, maintain a social distance and wear a face covering whenever this is not possible or when required.

You must wear a face covering inside our hospital at all times.
If your test result is invalid:
---
Page last updated: 08 Jan 2021