Apply to become a Wingman Champion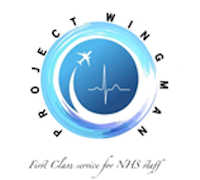 The Project Wingman 'first class lounge' was opened at the end of March 2020 as the worst of the Covid-19 pandemic hit the NHS. Volunteer aircrew (pilots & cabin crew) from multiple airlines registered to provide a basic level of peer support in the form of tea and empathy across UK hospitals. The Whittington Hospital was the first lounge to open, in what would become a hugely successful initiative with over 70 hospitals in both the UK and US welcoming Wingmen on reaching charity status.

Many hospital lounges across the UK have started to close as aircrew return to their chosen careers; however, Whittington Health are keen to keep the space and make the Project Wingman lounge a legacy for years to come. By collaborating Aircrew with NHS volunteers we would like to offer a new position as a Wingman Champion.
We are looking for volunteers to join our team of Pilots and crew, led by team leader Alex Jolly (Captain British Airways). You will receive training in all the requirements to become part of this wonderful team. Airline crew will still help out with shifts (facilitated by a rostering system the crew created online) but there will be a base level of support by Champions in order to maintain a service for NHS staff between the hours of 0730-1830.
We would love to hear from you if you enjoy working in a team environment and have a friendly manner with strong people skills and are able to volunteer for one day per week either between 07:30-13:00 or 13:00-18:30 Monday to Fridays. Although not essential, we would certainly welcome interest from those with experience of working in catering or customer services.
Closing date for applications 18th September 2020
Interviews will be held from 24th September 2020
For further information please contact:
Alex Jolly
Captain British Airways
Mobile: 07472 176 102
Lynda Rowlinson
Head of Patient Experience, Whittington Health at