Leave a legacy in your will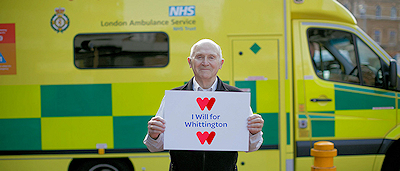 I Will for Whittington

A professionally written, up-to-date Will is the only way to make sure the people and causes you care about the most are looked after. Once you've considered all the important people in your life, any legacy you leave us, regardless of size, will help local people live longer and healthier lives.

"The staff have been fantastic in looking after my son…"

Nancy has been bringing her son to the Whittington since his diagnosis with epilepsy when he was 7 years old and says, 'We recently moved into a new house and this prompted us to review our Will. Over the years, we've had so much support from Whittington Health and its staff – if A&E or the wonderful Children's Ward hadn't been there, I don't know how my family would have coped. We decided to leave a residuary gift to the hospital so that in the future, more families like mine can also benefit from the hospital's invaluable work.'

Which department, service or ward should you support?

Often supporters leave a legacy to a ward or service that has helped them or a loved one through a challenging period in their life. As an Integrated Care Organisation providing a range of services, legacies have been bequeathed to various departments such as Children's, Cardiac, Intensive Care and also to the General Fund. A legacy to a specific part of Whittington Health will be ring fenced to help enhance that particular service of choice. Legacies to the General Fund can be applied to any part of the Trust helping develop services for even more patients and the wider community - a legacy to the General Fund allows the greatest flexibility in a rapidly advancing world of medicine and care.

Whichever part of the organisation you choose to leave a legacy to, you can be assured you will be making the gift of a lifetime that will change lives.
If you would like to know more about leaving a gift in your will to our charity, please click on the link to the right of the page, or email
fundraising.whitthealth@nhs.net
.